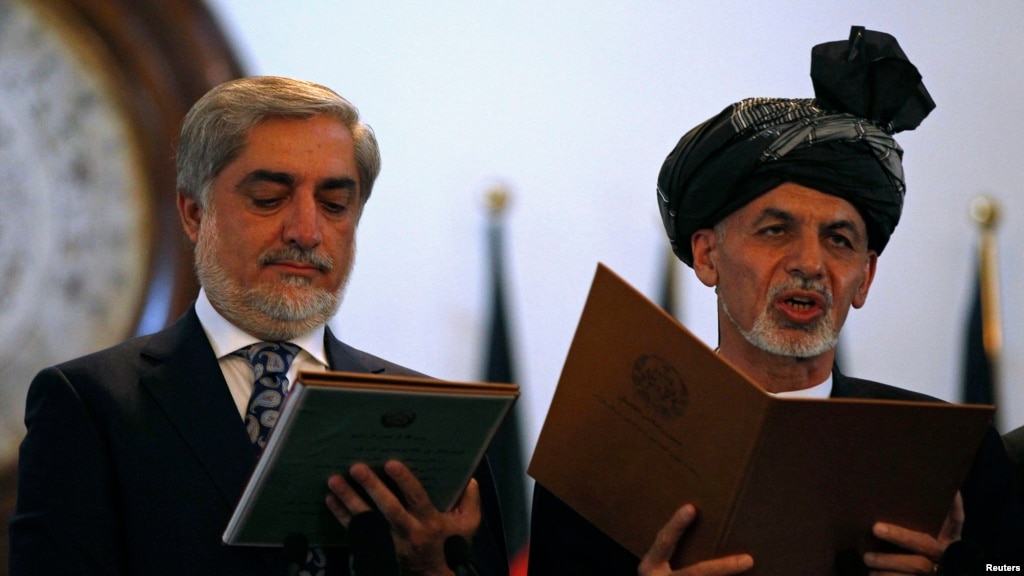 Afghan President Ashraf Gani and Chief Executive Abdullah Abdullah are to visit the White House next month, and Gani has accepted an invitation to speak to a joint meeting of Congress at a time when the Obama administration is weighing whether to slow the pace of US troop withdrawals from the country.
The White House said Friday that Gani and Abdullah will visit March 24.
It's the leaders' first visit since they formed a unity government after an election to replace former President Hamid Karzai, whose relations with the US were increasingly strained. Abdullah's post is similar to that of a prime minister.
White House spokesman Josh Earnest said that during a working lunch, the leaders will discuss security, economic
development and reconciliation efforts between Taliban and the Afghan government. Gani will also meet with Secretary of State John Kerry at the Camp David presidential retreat in Maryland.
Gani will address Congress on March 25. Former President Hamid Karzai appeared before a joint meeting of Congress on June 15, 2004.
"Afghanistan is an important friend and ally to the United States," said Republican House Speaker John Boehner, who invited Gani to speak. "This joint address presents an important opportunity to hear from the newly-elected president on how the United States can continue to work together to promote our shared goals and reaffirm our commitment to the Afghan people."
Gani's appearance is not expected to spur the controversy Boehner has faced since inviting Israel Prime Minister Benjamin Netanyahu to speak to Congress next Tuesday. Boehner invited Netanyahu without consulting with the White House or Democratic leaders in Congress, and some Democrats plan to skip the speech. The Israeli leader argues that Iran is not negotiating with the US and its partners in good faith to reach an agreement to curb its nuclear programme and is actively working to develop nuclear weapons.
White House spokeswoman Bernadette Meehan said both Boehner's office and the Afghan government consulted with the Obama administration in arranging Gani's speech.