A State Department official dismissed a plea Friday from Israeli Prime Minister Benjamin Netanyahu that the Iran nuclear agreement include clear recognition of his nation's "right to exist," declaring negotiations are "only about the nuclear issue."
State Department spokeswoman Marie Harf, in a terse response to a question about Netanyahu's concerns, told reporters, "This is an agreement that is only about the nuclear issue" — a comment that indicates the Obama administration is not looking to enshrine Israel's security into a final agreement.
 Harf, for her part, suggested the talks are complicated enough already.
"This is an agreement that doesn't deal with any other issues, nor should it," she said.
Obama administration officials have insisted all along that despite their public disagreement with Netanyahu over the Iran deal framework, the U.S. commitment to Israel's security is unwavering. Further, White House spokesman Eric Schultz told reporters on Air Force One on Friday that the U.S. would not agree to any deal that would threaten Israel.
The Israeli prime minister, though, made the call for the "right to exist" measure during brief remarks early Friday. He blasted the Iran framework deal and said his Cabinet is uniformly opposed to it. He closed his brief address by demanding that any final agreement include "a clear and unambiguous Iranian recognition of Israel's right to exist."
The statement was prompted by reported statements from a top Iranian military official, who was quoted saying "erasing Israel" off the map is "non-negotiable."
To that, Netanyahu said: "The survival of Israel is non-negotiable."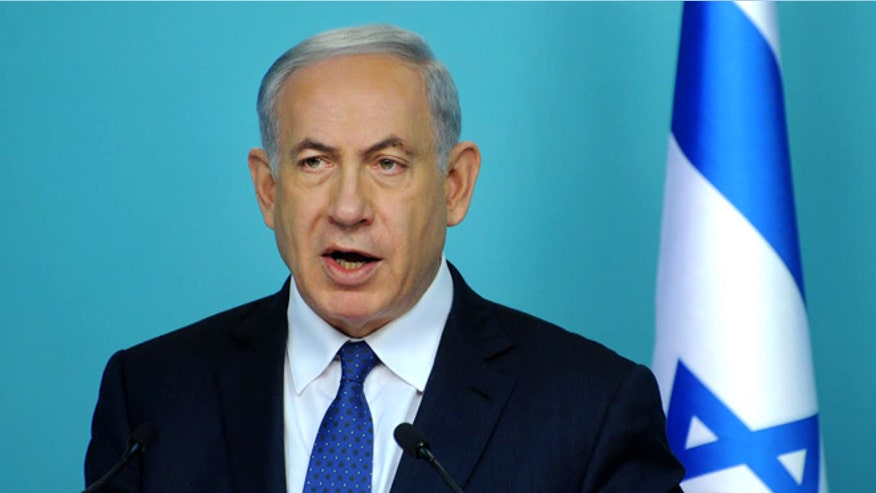 Israel's objections promise to be a major hurdle for the Obama administration as its representatives huddle with those from Iran and five other world powers in pursuit of a final deal by a June 30 deadline.
Last month, Netanyahu railed against the pending agreement in an address before the U.S. Congress. He repeated many of those concerns again, on Thursday and Friday, after the framework was unveiled.
Netanyahu said it would not shut down a single nuclear facility or destroy a single centrifuge.
"The deal would legitimize Iran's illegal nuclear program," Netanyahu said. "It would leave Iran with a vast nuclear infrastructure."
President Obama and Netanyahu spoke by phone late Thursday.
In a statement on that conversation, the White House said Obama "underscored that progress on the nuclear issue in no way diminishes our concerns with respect to Iran's sponsorship of terrorism and threats towards Israel and emphasized that the United States remains steadfast in our commitment to the security of Israel. "
According to the White House, Obama told his Israeli counterpart he has directed his national security team to "increase consultations with the new Israeli government about how we can further strengthen our long-term security cooperation with Israel and remain vigilant in countering Iran's threats."
(Source: Fox News)