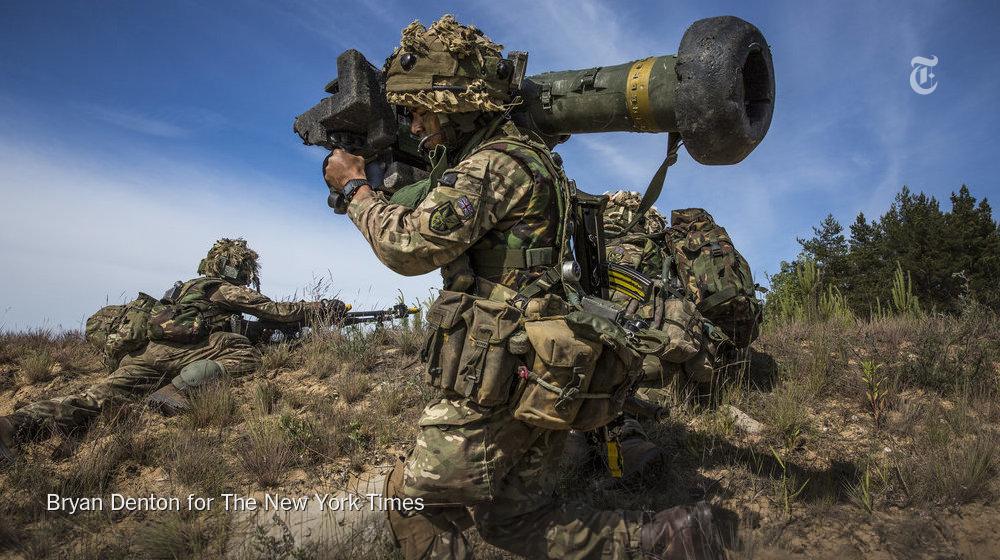 After years of facing threats far beyond its borders,NATO is now reinvigorating plans to confront a much larger and more aggressive threat from its past: Moscow.
This seismic shift has been apparent in military training exercises in this former Soviet republic, which is now a NATO member and on the alliance's eastern flank, bordering Russia.
On a recent day, Latvian soldiers conducted a simulated attack on dug-in enemy positions in a pine forest here as two United States A-10 attack planes roared overhead and opened fire with 30-millimeter cannons.
Two days before, a B-52 dropped nine dummy bombs radioed in by the Latvians on the ground — all just 180 miles from the Russian border.
The symbolism of the B-52s, stalwarts of the Cold War arsenal, was lost on no one. The bombers' main mission was once was to deliver a nuclear knockout punch to Soviet forces, but they were put to use for the first time over this former Soviet republic to show resolve on the new front between NATO and Russia, the heir of the Soviet war machine.
CreditBryan Denton for The New York Times
"If the Russians sense a window of opportunity, they will use it to their advantage," said Estonia's chief of defense, Lt. Gen. Riho Terras, who recently mobilized 13,000 soldiers across his tiny country in a separate exercise. "We must make sure there's no room for miscalculation."
The military drills that unfolded here, part of a series of exercises planned over coming months to demonstrate the alliance's readiness to confront Russia, emphasize the depth of the challenge facing an alliance that for a quarter of a century turned its attention to threats much farther afield.
After years of reducing military spending and conducting expeditionary missions beyond NATO's border, from the Balkans to Afghanistan to the Horn of Africa, the alliance has had to reinvigorate plans that commanders and political leaders had largely consigned to the past.
This week, Defense Secretary Ashton B. Carter travels through several NATO capitals before sitting down on Wednesday and Thursday with other defense ministers in Brussels to debate how to counter a resurgent Russia.
Russia's annexation of Crimea — and its role in the war in eastern Ukraine — has already resulted in what NATO's secretary general, Jens Stoltenberg, recently called "the biggest reinforcement of NATO forces since the end of the Cold War."
It has involved a marked increase in training rotations on territory of the newer NATO allies in the east, and stepped up patrols of the air and seas from the Baltic to the Black Sea intended to counter an increase of patrols by Russian forces around NATO's periphery.
Most of those are temporary deployments. But in February, NATO announced that it would set up six new command units within the Eastern allies and create a 5,000-strong rapid reaction "spearhead" force.
And the Pentagon now plans to preposition heavy American tanks and other weaponry in Eastern Europe for the first time, prompting unease in some quarters ahead of the NATO defense ministers' meetings, and strong protests from Moscow that coincided with an announcement by President Vladimir V. Putin that he was bolstering Russia's arsenal of strategicnuclear weapons.
With the leaders of NATO's 28 members scheduled to gather in Warsaw for an important summit meeting next year, the alliance is now considering what other measures are needed to adjust its forces, to increase spending that had plummeted as part of a "peace dividend," and to revisit NATO's military strategy and planning.
"During the Cold War we had everything there in the neighborhood we needed to respond," said Julianne Smith, a former defense and White House official who is now a senior fellow at the Center for a New American Security in Washington. "It's all atrophied. We haven't gone through the muscle movements of a conventional attack in Europe for decades."
NATO's steps, and its deliberations over future ones, have exposed internal tensions within the alliance over the extent of the threat Putin's Russia poses. That in turn has colored the debate over how vigorously the allies should prepare.
Some view the threat as imminent, while others view Russia as less a threat than the instability, the flood of migrants and the rise of extremism emanating from North Africa. A recent poll suggested that residents in some member nations were far from committed to the notion of going to war to protect the other NATO allies — let alone Ukraine.
NATO's response to the events in Ukraine has required a shift in strategic thinking as profound as the one that accompanied the collapse of the Soviet Union, when the alliance's main adversary suddenly no longer existed. For years, the Russia that emerged from the Soviet ruins seemed destined to be a partner if not an ally, something Mr. Putin himself did not rule out when he first came to office in 2000.
"I don't think we're in the Cold War again — yet," said James G. Stavridis, the retired admiral and NATO military commander, now dean of the Fletcher School of Law and Diplomacy at Tufts University, who served on a destroyer as a "thorough seagoing cold warrior" when the Soviet Union collapsed in 1991.
He added, however: "I can kind of see it from here."
While some do not rule out a conventional confrontation — something Mr. Putin himself rejected as "insane" — others point to the potential threats shrouded in subterfuge and subversion, much like Russia's annexation of Crimea in March 2014 and its continuing support for ethnic-Russians in the war in eastern Ukraine, which has claimed more than 6,000 lives.
Britain's defense secretary, Michael Fallon, warned in February that there was a "real and present danger" of Russia moving to destabilize the Baltic States: Estonia, Lithuania and Latvia.
A confidential assessment of that risk is expected to be presented at the coming NATO meetings in Brussels. But the potential for such an attack has implicitly been the focus of much of the training and planning going on in places like this.
In private and in public, some officials and commanders argue that much more is needed to reverse two decades of policy, particularly to shore up an eastern flank that to many, especially here in the Baltics, feels gravely exposed to a Russian attack.
Poland's defense minister, Tomasz Siemoniak, said that NATO had to undertake a "strategic adaptation" that accounted for the fact that Russia's hostility toward the alliance was "a change in climate and not a summer storm." It is time, he said, to consider significant deployments of heavy weapons in Eastern Europe, brushing aside the worry that such a move would provoke Russia.
"I think the caution expressed by some of our European allies is excessive," Mr. Siemoniak said during a speech at the Center for Strategic and International Studies in Washington in May.
Some believe that stoking divisions among the allies is simply another of the tactics that Mr. Putin has employed.
Lt. Gen. Ben Hodges, the commander of United States Army forces in Europe, said in an interview, "I am sure they want to create doubts in the minds of some members of the alliance that the other 27 members won't be there for them."
The rising tensions between NATO and Russia come at a time of sharp decline in the United States military presence in Europe, to 64,000 troops now, including just 27,000 soldiers, from more than 400,000 at the height of the Cold War. Other nations' militaries have shrunk, too. Britain now has a smaller army than during the Crimean War in the mid-19th century.
The notion of a more robust NATO has encountered inertia that has built over the last two decades. The "peace dividend" that followed the collapse of the Soviet Union could prove hard to reverse, said David Ochmanek, a former senior Pentagon official who is a senior analyst at the RAND Corporation.
NATO's militaries drew down so precipitously that it has become a regular challenge for members to maintain military spending at 2 percent of gross domestic product, a level considered minimal for effective defense. "The assumption was that this was pretty much cost free because there was no plausible threat to the security of members," Mr. Ochmanek said. "Putin has changed that."
At the same time, few of the NATO allies are looking to increase military spending significantly. "Nobody in any military establishment is looking for more bills to pay right now," Mr. Ochmanek said.
Even before the annexation of Crimea, NATO had watched Russia warily.
"NATO has reduced defense spending over a long period of time, especially European NATO allies," Mr. Stoltenberg said in an interview in Washington in May. "Russia has increased substantially. So they have modernized their forces. They have increased their capacity. And they are exercising more. And they are also now starting to use nuclear rhetoric, nuclear exercises and nuclear operations as part of their nuclear posture. This is destabilizing."
While American officials say that exercises like the one at this former Soviet tank base are mainly to allow NATO and Baltic States to hone their training together, they are also intended to send a strong message of solidarity.
More than 6,000 troops from 14 allied nations — three times the number of soldiers that joined the same exercise two years ago, before Russia's invasion of Crimea and eastern Ukraine — conducted the annual Saber Strike training exercise in the Baltics and Poland that ended Friday.
On a brilliant, sunny day this month, 150 Latvian infantry members fought across a sandy pine barren to seize locations defended by Atropians, a fictional foe played by Gurkha soldiers of the British Army. Both sides traded simulated artillery and rocket fire, before the Latvians dashed from the woods and used smoke screens as cover to seize their targets. The A-10 attack planes roared overhead. But what really snapped back the necks of Baltic and other European observers was the B-52 bomber, on call for any additional strikes.
Latvia's defense chief, Lt. Gen. Raimonds Graube, looked up admiringly at the warplanes, and dismissed any suggestion that a NATO exercise with B-52s might provoke the Russians, as some European officials have complained. "Our soldiers must be ready to train on an international level," he said.
For a United States military that has spent nearly two decades fighting insurgencies in places like Iraq and Afghanistan, the tensions with Russia have young soldiers — many born after the Soviet Union collapsed — learning new skills and brushing up on an old adversary.
"It's not lost on me or my soldiers where we're operating," said Lt. Col. Chad Chalfont, an Army battalion commander training at a former Soviet base in Rukla, Lithuania.
Colonel Chalfont, whose father served as an Air Force officer in an underground nuclear missile silo during the Cold War, said American and Lithuanian troops drilled together on mundane but critical tasks like talking on the same radio frequency. Lithuanian infantry troops also learn more complex skills, like operating together with American battle tanks for the first time in dense pine forests.
The threat to the Baltic nations, at least in theory, is acute. For the Pentagon, Mr. Ochmanek of RAND has run war games trying to anticipate how to defend the Baltics in particular, the most immediate concern for the alliance. "It's not realistic to think they could defend themselves against a determined Russian attack," he said.
There is a hope that deterrence will suffice to prevent Russia from moving, but many fear that Mr. Putin's government could seek to undermine the allies by subterfuge, as Russia did in Crimea and is doing in Ukraine.
More likely than any ground attack from Russian troops, NATO officials say, would be some kind of cyberstrike or information warfare assault, two of the critical components of a hybrid warfare style that is central to a new Russian military strategy unveiled in 2013 by Russia's chief of the general staff, Gen. Valery V. Gerasimov.
The doctrine explicitly acknowledged the use of "military means of a concealed character, including carrying out actions of informational conflict and the actions of special operations forces."
For those on NATO's front lines, the doctrine appears all too real. This month, unknown hackers targeted the website of the Lithuanian Army leadership, posting false information about NATO exercises in the Baltics and Poland, a Lithuanian Defense Ministry spokesman said.
Lithuanian officials said the false messages included a report that the NATO exercise was a pretext for a possible annexation of the Russian region of Kaliningrad, which lies between Lithuania and Poland.
"They use information like artillery and rockets, in barrages," said General Hodges, the Army commander in Europe.
All of this is on NATO's mind as it takes interim measures to deal with the threat.
Asked what steps his military would take if Russian "little green men" tried to sneak across his border, General Terras, Estonia's chief of defense, said bluntly, "We will shoot them."
Bravado aside, Baltic commanders and civilian leaders said they were scrambling to improve and enlarge their militaries and other security forces.
These countries are overcoming years when Russia was not considered an enemy, but was still eyed warily. When Baltic nations joined NATO more than a decade ago, they were encouraged to develop niche specialties rather than territorial defense, which was no longer thought necessary. Latvia, for instance, developed capabilities like explosive demolition experts and ground spotters to call in strikes — all skills that filled needs in NATO missions outside Europe, such as Afghanistan.
Now with standing forces of about 5,000 to 10,000 troops, the Baltics feel vulnerable despite being members of NATO. They have no tanks, no air forces to speak of and only patrol craft and minesweepers to ply coastal waters. Each country is now rushing to correct this shortfall.
The Estonians have a "defense league" that is made up of about 30,000 civilians and includes farmers, carpenters, lawyers and other professions. They engage in basic infantry training once a month, receive arms from the government, and in the event of an invasion would be called to active duty to be commanded by professional soldiers.
Juozas Olekas, Lithuania's defense minister, said in an interview that the government was developing a more comprehensive self-defense plan coordinating across several government agencies. The army will soon add some 3,000 new conscripts. In January, Lithuania's Defense Ministry published a pamphlet intended to instruct Lithuanians how to survive a foreign occupation and organize nonviolent resistance.
In Latvia, Defense Minister Raimonds Vejonis said that with the Baltics' bitter history under Soviet occupation, the public and the government were only too aware of Mr. Putin's attempts to use propaganda and military might in Ukraine to intimidate NATO's smallest members. "We will stay united because if we don't, NATO will die," said Mr. Vejonis, who becomes Lithuania's president in July.
Col. Martins Liberts, a Latvian brigade commander who joined his country's new military when it formed upon Latvia's independence in 1991, said: "We are all monitoring closely what's happening in Ukraine. And we're learning lessons. We're different from Ukraine."
Not all of the NATO allies are as ardent. While there has been striking unanimity against Russia's actions in Ukraine — and separately, theEuropean Union extended its sanctions against Russia this week — divisions remain.
"There's a hope this is all a bump in the road and with a little bit of tweaking we can get back to the status quo," the former American ambassador to Russia, Michael McFaul, said in a telephone interview. "In my view, that's naïve. Putin's not going to change his position, and he's not going away. You've got to be in this for the long haul."