The fighting in Sierra Leone had been going almost half her young life when the soldiers of the Revolutionary United Front came to her family's front door.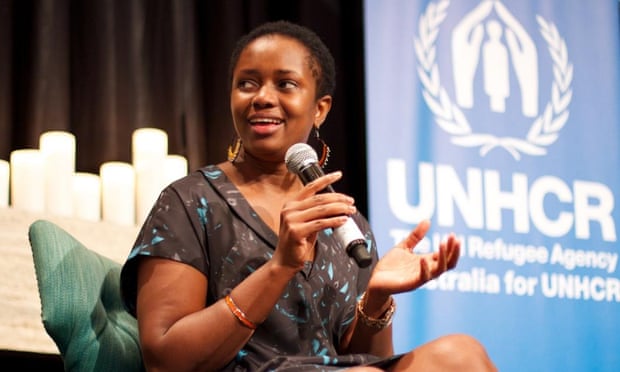 Aminata Conteh-Biger, then aged 19, had heard about the atrocities happening in far away villages, from limbs being hacked off to kidnappings and sexual violence.
But in the capital Freetown, until that day in 1999 Conteh-Biger had been living an idyllic life familiar to many in the west, with a good school, a loving family and days spent playing games with her friends.
"I would not have changed anything at that time," she says today. "I was not thinking of leaving my country ever."
When the rebels came to her home they ordered everyone to stand out in a field together. The teenager knew what was happening immediately.
"They were looking for young girls to take away. As soon as they looked at me I knew I had to go. I was holding my dad's hand to stop it from shaking, because he had Parkinson's. I just let go and left really quickly. I knew they would kill people like my dad if he fought."
Conteh-Biger was quickly taken away from the rest of the group and held captive by a rebel soldier aged in his late twenties. She was soon on the road, marching day and night as the rebels kept on fighting government troops.
"I would rather be killed than having somebody control my body. That was my worst fight because that was one on one."
"The women were sex slaves," she says. "That was their role to play. They take you to be their wife but they don't ask your permission. The person who kidnapped me had taken four girls. Two of them I knew before the war because we went to school together.
"It was really, really intense fighting those couple of months. A lot of terrible things happened at that time. There was bombing and hand cutting. You are fighting so many demons around you. You don't know when you are going to die.
"But I would rather be killed than having somebody control my body. That was my worst fight because that was one on one. They control how you move, how you eat and you didn't give them permission. They are not a kind person and they do what they want to do to you."
After enduring her ordeal for about five months, Conteh-Biger was eventually picked to deliver a letter of demands to the government as the rebels negotiated a deal for food and medicine and was freed.
---
"I think it's one of the largest commitment for any Australian NGO for a prevention and treatment program around SGBV," Steer, who recently visited the region, says. "When I visited the DRC last year, so many women I spoke to has suffered some kind of violence or sexual assault. Sadly it has become so common it was almost considered normal."
The prevention program funded by Australia for UNHCR focuses on providing medical and psychological assistance for those who have been sexually assaulted, social reintegration, mobile courts to bring perpetrators to justice, livelihood programs and educational materials.
Australia for UNHCR is also helping the work of Sister Angelique Namaika, a Catholic nun who is running a shelter in the northeastern DRC for victims of the Lord's Resistance Army (LRA), a group of former child soldiers who have grown up terrorising the region.
"She (Sister Angelique) started her women's support program, rescuing victims of the LRA who she found hiding in the bush," Steer says. "Sister Angelique was the thin blue line between the LRA and the women, just with her moral authority."
Sister Angelique's group "La mason des femmes" ("The house of the women") runs literacy classes and psychosocial counseling for victims of sexual violence.
The group also runs projects that let women rebuild their lives including a bakery where they can earn an income and sewing courses so they can start their own businesses.
One agricultural project involves 80 women toiling together on individual plots of land growing maize, rice and cassava to help restore their hope and get back their independence.
A chance to work and receive an independent income is transformational for displaced women, providing them with a chance to support themselves and their families on an ongoing basis.
---
It is not just in Africa where the trauma of SGBV has affected so many women — the experiences are sadly endemic in conflict zones around the world. It is especially stark in the current situation in Syria.
In terms of scale, the refugee crisis in Syria is the biggest humanitarian crisis the world is currently facing and in many cases it is the women who are left fending for their family as the sole head of household in an often dramatic role reversal for the culture.
Recent interviews with Syrian women reveal the challenges they face — many telling stories of sexual harassment by landlords and other men in daily life. Some are forced into "survival sex" in situations where there is no money to feed or shelter their children.
Providing the basics of shelter and food can help turn these women's lives around — this is where UNHCR is able to step in and help.
There are now 70,000 everyday Australians regularly giving donations which can help with individual targeted projects to stop the trauma of SGBV.
"When I visit the camps women refugees are all incredibly welcoming when they meet me and optimistic about their future," Australia for UNHCR's Naomi Steer says. "People are optimistic because they see that you are helping them. It's important to fuel that optimism."
Donation through Australia for UNHCR is one of the ways to help transform the lives of these women and their families in real and tangible ways.
---
For Aminata Conteh-Biger, her way of transforming lives is to speak openly about her experiences and to advocate for refugees through her role as Special Representative to Australia for UNHCR.
Now living a new life in Australia, Conteh-Biger, 34, feels it is important to share her story to highlight what is happening now in conflict zones around the world, in places like the Democratic Republic of the Congo (DRC), South Sudan, Syria and Iraq.
"People need to talk more about it," she says. "I am blessed to be here but it's happening around the world, women are being used as weapons of war."