This year's open hustings, the first of its kind, continues in London as three of the candidates face questions about war, refugees, climate change and how to forge agreements between 193 nations.
And that's a wrap. Thanks for tuning in. I hope it was informative.
From a personal perspective I felt that some quite nuanced positions emerged there. It's a field of more than three candidates of course, but who knows: We might have been listening to an outlines of plans by the UN's next secretary general.
Last question: Do you have hope for the future?
Luksic says he has faith in the massive proportion of the world's population who are young people.
Jeremic says he is hopeful but that a substantial "facelift" is needed for our "common home" the UN.
Guterres says that working with refugees in the last 10 years has informed his views on this. When he sees the resilience and courage of families then it gives him courage. Cue applause.
Another question: Is the UN too big?
Luksic says that a panel of experts should be created to scrutinise the budget. He doesn't agree with Guterres who says that the UN's budget should be bigger.
Jeremic says that there has been a dramatic failure to reach out to to the private sector in terms of securing donations to the UN.
He would appoint a special envoy of high stature to oversee philanthropic giving. He won't name names, but he has "couple of guys in mind who could do the job". By guys, he adds, he means men and women.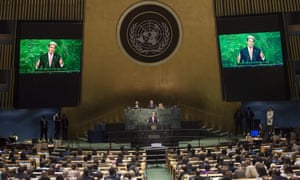 US Secretary of State John Kerry speaks during the United Nations International School commencement ceremony in the UN General Assembly Hall at the United Nations in New York, June 2, 2016 Photograph: Saul Loeb/AFP/Getty Images
Updated
Should there be an international court to try peacekeepers for infringements – particularly for sexual offences?
There should be a new "compact" says Guterres, without necessarily supporting the court.
There's applause however for Mark when he asks the candidates why the UN has a system where whistleblowers rather than perpetrators are punished?
The Danish ambassador to London has a question: How would you promote protection of human rights as a necessary condition for development and international peace?
Guterres says there are things can be done. The Secretary General has right to see the security council if it appears that major threats to human rights are looming or on the increase.
Massive human rights violations are usually an early warning system of a threat to peace and security, he adds and the UN needs to react to that.
Jeremic says that human rights would be front and centre of his time in the post.
As a young man he fought in the street for democracy and "risked his life".
He proposes a 50 percent increase in funding for the office of the high commissioner for human rights.
What are they making of this on Twitter? (Remember the hashtag is#SGdebate)
Guterres says he has no doubt that he is a feminist. When he was elected as a socialist party leader in Portugal in 1992, he introduced mandatory quotas for women and men in all bodies of the party and in all lists presented by it to
"This was southern Europe in the early 90s," he adds.
At the UNHCR he says that parity has been reached at higher levels. However, he says that there is enormous resistance "within the machine". It's necessary to have clear benchmarks and deadlines.
"Are you a feminist Igor?" asks Mark.
Jeremic gets there via saying that he was the first leader in his region to appoint a female defence minister.
From the first day in office, he says that the new secretary general should encourage other states to put forward potential female undersecretary generals.
There has to be a consistent pursuit of policies to empower women.
When you have women taking part in peace processes then the reach of peace is a sustained one, he adds.
He's also in favour of a new legally binding instrument that would eradicate violence against women. In the short run we need to be committed to existing programs. The we can move to a globally binding approach.
Next question: Do you consider yourself a feminist?
The first of the boys answers: "Yes" (applause).
He believes this election for secretary general has to be a turning point for women in the UN. One powerful symbolism is to actually elect a woman secretary general.
If the member states agree then that would be useful, he says, but it needs to be much more than that to be a turning point for real. Representation has to be more widespread and go all the way through the organisation.
Guterres says it's not fair to say that there are countries who peace keep and those who do not.
Mark asks: Would it not be a problem for UN and UK troops to be used more frequently in certain countries?
Guterres says that the role of the British army in Sierra Leone was exemplary and the outcome of peacekeeping operations there should be praised.
On to the issue of peacekeepers now, their problems and failures.
Jeremic is asked about his suggestion that they should be "toughened up". Isn't that potentially quite dangerous.
He proposes a new generation of peacekeeping operations that would have much more robust rules of engagement and combat equipment, with sea, air and intelligence support if necessary.
"They would not only be able to protect and defend themselves but be actually able to protect those they are sent to protect in the first place," he adds.
They do need to be toughened up, he says, but if we go on with old 20th century blue helmets that will become more of a "museum exercise".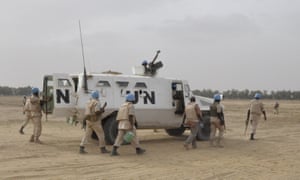 Related