So, we go again – and perhaps this season with an even greater sense of disbelief than usual that it's back already. It won't be long before we've returned to the familiar routine – just who is in crisis this week? – but for now it feels as though the Premier League will be swimming through the wash of the World Cup. The transfer window seems barely to have opened and yet is already in its last week, players have been still drifting back from holiday over the past few days, nothing seems to have had time to settle.
That should, in theory, mean this title race is less predictable than usual, at least at its outset – and, while it would be misleading to suggest that the season after a World Cup has a habit of throwing up surprise winners, it is true that the Premier League in a season after a World Cup tends to be won with fewer points than usual. Not since Manchester United in 1998-99 has a post-World Cup league champion attained more points than the average of the champion over the previous three seasons – and that was in a pre-globalised world before every team had half a dozen players who had been at the tournament.
Set against that, though, is Manchester City. It is not just that they broke every conceivable record in lifting the title in May, it's that for a couple of months around the midpoint of the season they seemed to be playing a different game to everybody else. They clearly have the resources to buy if they need to – and the attempt to sign Jorginho suggested Pep Guardiola sees a potential shortfall in the middle of midfield – but they are in the enviable position of having a balanced squad that is still growing together and are under no compunction to buy. As mutual understanding develops, it is possible that their interactions could become even slicker.
There are questions about their defence against the very best opponents, but just because Liverpool were able to expose them twice last season does not mean other sides will be able to; Tottenham tried to take them on in both league games and ended up losing by an aggregate 7-2.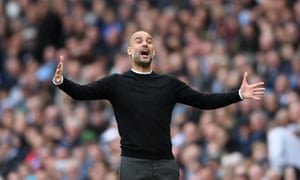 A bigger threat would seem to be City's nature, the vague whiff of Cityitis that has perhaps not yet entirely been expunged by Sheikh Mansour's billions. There was something slightly uncomfortable about Guardiola's remark in his first season in Manchester that City were a club that lacked history, but he was right to the extent that they are not a club with the sort of history he is used to. City have never before retained the league title and, while their relegation as champions in 1937-38 remains an extreme example, even recently they have tended to respond to winning the league by dozing through the campaign that followed.
It is hard to believe a coach as driven as Guardiola will allow that to be an issue again and he has a squad with the depth to cover for any World Cup fatigue, particularly after the acquisition of Riyad Mahrez. It is not quite like his final two seasons at Bayern, when the league seemed a given, but, even more than in 2017-18, Guardiola will be judged this season on how City fare in Europe.
As to who City's main challengers will be, the best guide is probably José Mourinho. There is a reason why the guns of his propaganda machine, when they have not been trained on his own board and their inability to land him the players he wants, have this summer been largely directed at Anfield. The arrival of Alisson has addressed Liverpool's obvious goalkeeping deficiency, while Fabinho, Naby Keïta and Xherdan Shaqiri are necessary additions to a squad that by the end of last season was looking threadbare. Jürgen Klopp is the only manager in the world with a positive record against Guardiola and, while it would be absurd to suggest Liverpool have anything like the depth of City, they are edging towards the point at which concrete returns will be expected.
The implication is Mourinho already sees the battle this season as being for second behind City. He tried to portray being runners-up last season as a triumph but the mood this summer has been flatter than it was last – in part because of the way Romelu Lukaku and Paul Pogba looked better players at the World Cup, having escaped Mourinho's clutches.
Given how late Daniel Levy likes to leave things, Spurs' transfer business cannot properly be assessed until the final second of the window has elapsed but, with no major arrivals, a squad that played more minutes at the World Cup than any other in the division and with a new stadium to move into, it is hard to imagine them presenting a stronger challenge this season than they did last.
Chelsea's endless flux goes on with another new manager – sadly, they did finally sack Antonio Conte, denying us the possibility of him and Maurizio Sarri competing in the same technical area to direct the side – while it is not even clear Arsenal are still part of this conversation. Have they appointed a Europa League specialist because they have accepted they are a Europa League club, or is Unai Emery ready to step up a level and drag them with him? Their spending has been interesting rather than extravagant, which may ultimately be for the best, but hardly speaks of a club intending to surf back into the top four on a wave of new blood.
It should be City then the rest but, as the post-World Cup hangover fades, the overwhelming sense at the moment is disbelief that the alarm is beeping already and that the working day is about to begin again. But in that may lie the challengers' opportunity.