The Regional Police Division Commander of Hiiraan of HirShabelle State of Federal Somalia succumbed to gunshot wounds sustained during a clash between his forces and armed militias loyal to ousted regional Governor, Yussuf Ahmed Hagar Dabageed.
The Governor was relieved of his position by a decree from President Waare of the Federal state following differences between the two over where regional revenue goes and who is ultimately responsible for tax proceeds bagged at district and regional levels under Dabageed.
Following the President's order for Dabageed to be removed from gubernatorial responsibilities, the latter started moves which saw his militias take control of all customs depots, customs offices and checkpoints manning approaches to the city of Beledweine.
Following the standoff, the Attorney General of the Federal State, Abdullahi Mohamed Ga'al, Tuesday, ordered the arrest of the rebellious ex-governor which resulted in armed engagements between the Ex-Governor Dabageed and the Police.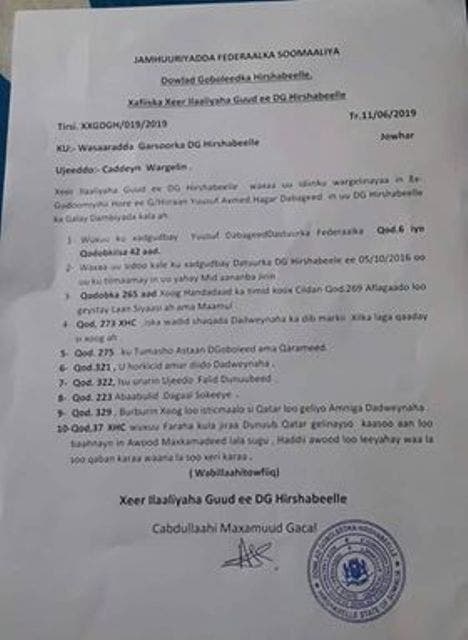 Lieutenant Colonel Mohamed Mao fell during clashes which locked horns between the two sides this morning. His Deputy was also seriously wounded.
Unconfirmed sources indicate that the Somalia National Director of Intelligence, a man said to have his fingers in many pies including that which binds Qatar and Somalia, Fahad Yassin, is actively involved in the conflict between the two sides. Reports allege that Mr Yassin ordered his intelligence operatives to lend a hand to the expelled governor as a direct result of which the division commander was killed.