According to news reports coming from the Galmudug Federal state seat in Southern Galkayu, a city divided between Puntland and Galmudug, 13 people were killed on Friday evening.
The people were gunned down in the same area – some say the in same house – after, ostensibly, gunmen who just killed a member of the Intelligence Services was shot down entered the building. Gunmen chasing the alleged gunmen forced their way in and gunned down all in sight inside.
Galmudig President, Ahmed Duale Gheelle 'Haaf', speaking of the shocking incident, Saturday, stated that the culprits were rounded up and would be brought in front of the bench in due time.
Gheelle urged residents to observe calm and not rock the relative peace the city has enjoyed in recent times.
"I regret that such a heinous act be carried out by revenge killers and that all the killed were from the same ethnic, clan origin," he said.
President Ghelle said the incident was made more painful by the fact that it was the second in the same evening and that the kill;ing closely followed another which had happened in the area within days of the latter.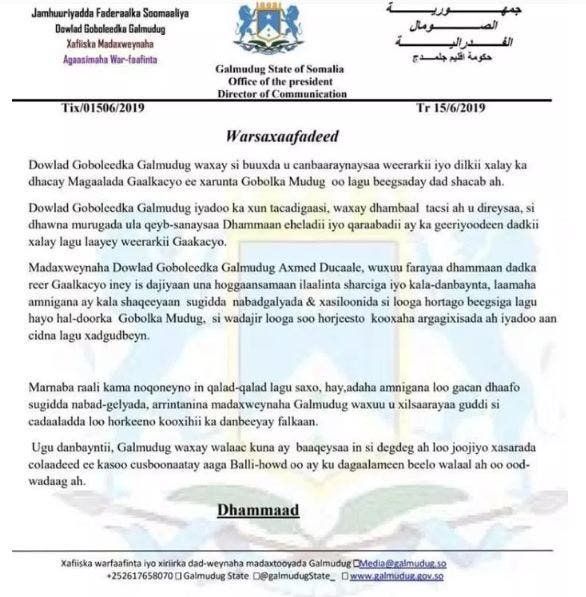 President of the Somali Federal State of the Southwest, where the victims originally hailed from, Abdi Aziz Laftagareen, said that he hoped the killers be made to taste the bitter end of their act by a court of law.
Laftagareen called on Galmudug authorities not to spare any effort to see to it that just is done – and swiftly.
Ex-Somalia President and a number of other politicians lamented the occurrence calling on Galmudug to bring the city back in line.
Galkayu has enjoyed relative calm for some time now and, especially, since the two authorities in the same city agreed to form joint security detachments to prevent acts such as those which disturbed the city on Friday.