His Excellency the President of the Republic of Somaliland, Musa Bihi Abdi, expressed gratitude to Birmingham City Council for recognizing his country's right to reclaim its independence and re-establish its place at international fora and the UN.
Birmingham, the second largest city of England of the United Kingdom approved Somaliland's right to sovereignty on Monday, following similar votes on Somaliland independence by Cardiff, Tower Hamlets and Sheffield.
"It was a brave and bold step the honourable council of Birmingham has taken on Monday to endorse the sovereignty and right to reclaim its independence of Somaliland," the President said in a statement released by his office, Tuesday.
"The City Council of Birmingham have, in this step, demonstrated a healthy and encouraging recognition of the Republic of Somaliland and my nation's right to be fully recognized by the international community," the President stated.
"On the same token, the people of Somaliland have been deeply moved by the city's vote of approval, and are eternally grateful to the Council and the people of Birmingham," he added.
President urged the international community, at large, to acknowledge his country's achievements and rightful place alongside sovereign nations by recognizing its right to reclaim its internationally recognized status before 1 July 1960.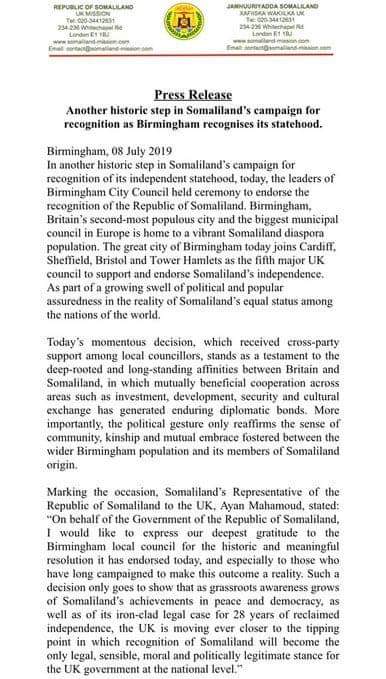 Below is a sample of Tweets reacting to the Birmingham move:
https://twitter.com/UgbadIman/status/1148183141569482752
It was a great honour to attend and speak at Birmingham City Council Reconising Somaliland! And meeting many wonderful Somaliland community members living in Birmingham. #ViVaSomaliland pic.twitter.com/40HMvMRkIf

— Yvonne4labour (@yvonne4WMPCC) July 9, 2019
Somaliland should be recognized as an independent State. #Africans4Somaliland pic.twitter.com/9AiWaZ3xjp

— Lord Abraham Mutai (@ItsMutai) July 1, 2019
In an other histiric step in #somaliland's campaign for recognition #UK's #Birmingham recognizes the statehood of my country. @MarcoDeMonaco @MubarakTaani @MubarakTaani @musebiihi @waddani_5 @HargeysaCC @Rooble2009 @yyusufd @HassanAKhaire @Gobannimo @Kadarnouh @JamaMusse pic.twitter.com/gc7QfyF2hS

— Abdilahi Abdirahman (@Abdilahi2019) July 8, 2019
The City Council of Birmingham recognizes Somaliland. Bravo Team UK @Gobannimo pic.twitter.com/jlhgjxLLER

— Abdinasir A. Hersi (@AbdinasirAHers1) July 8, 2019
Amazing achievement for @Somalilanders delivered by hardworking team led by Nora Ali & supported by Her Excellency @Gobannimo – Gr8 victory 4 peace, democracy & human rights lovers -Well done Birmingham @Cllr_IanWard @CllrMajid @ansar_ali_khan @nealeggibson #SomalilandRecognised pic.twitter.com/cu0dAodm1b

— Mohammad Maroof (@Maroof4Labour) July 8, 2019
Thank you to @BhamCityCouncil for endorsing Somaliland's independence today and joining the other UK cities to have done so before. pic.twitter.com/CBbqSKEbn8

— Somaliland in UK (@SomalilandinUK) July 8, 2019
A city at a time if need be as you say! https://t.co/H9BQJqAgXM

— Ibrahim J Abdi (@JIbrahimj) July 9, 2019