Hormuud Telecom, a leading telecommunications company in Somalia, accused Kenya of repeatedly targeting its relay stations along or near the border between Somalia and Kenya.
In a press statement, the company released, Saturday, it revealed that Kenyan troops rigged powerful explosives on the 12th Hormuud station at around midnight on Thursday, 22 August, completely destroying the station – tower, generators, building and all – in stark, blatant violation of all international laws.
The statement noted that in one of the earlier raids on the part of the Kenyan forces, lives were lost beside incalculable properties.
"These unlawful actions of the Kenyan troops and those leading their operational effort are now committing war crimes and will tarnish the efforts of the international community to stabilize Somalia," Hormuud stated.
The press release underlined the devastating effect the destruction of the station left on dependents of the service.
"The destruction has disrupted all Hormud Telecom services, disconnecting up to 4000 people from the rest of the country, and putting all economic activities on hold due to the disruption on mobile communication and EVC Mobile Money, which is a crucial lifeline to the vulnerable Somali communities in the rural areas," the statement said.
The statement made an urgent appeal to the Somalia federal government, the UN, the AU, human rights organizations and other international partners to quickly and expediently look into the matter and take necessary measures to 'prevent more of these attacks and hold the Kenyan government accountable for their barbaric attacks'.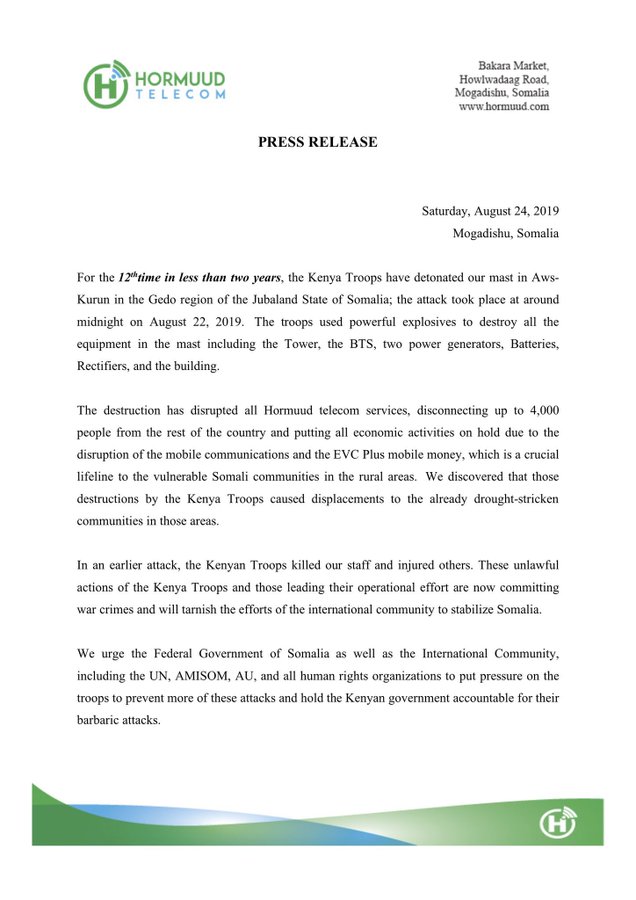 For the 12th time in less than two years, Kenya Troops unlawfully destroyed crucial Hormuud Telecom masts located in Gedo & Lower Juba regions of the Jubaland State of Somalia.
Up to 4,000 people can't buy food, water, medicine & other essentials in Cows-Qurun village.#Somalia pic.twitter.com/kg2mfDzvJt

— Hormuud Telecom (@Hormuud) August 24, 2019