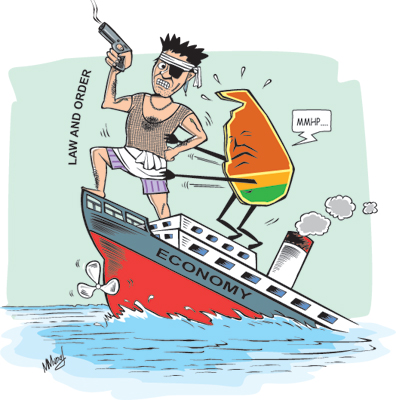 Aid groups say remittances from abroad are key to food security in Somalia, and that an American bank's recent decision to bar money transfers into the country could have disastrous effects.  The move, apparently required by U.S. anti-terrorism measures, could contribute to making Somalia's hunger problems even worse.
In February, Merchants Bank of California stopped working with Somali remittance companies.  It was the last major U.S. bank that allowed Somalis to send money home.
The announcement caused an outcry among aid organizations.  They say it will make it more difficult for Somalis in the diaspora to support their families back home, where decades of war, recurrent drought and continued lawlessness have left millions vulnerable.
An estimated $1.3 billion are sent to Somalia each year, which is more than humanitarian aid, development aid and foreign direct investment combined.
Ed Pomfret, who works with Oxfam's Somalia program, points out that stemming this flow could end up being costly for the international community.
"We know that at least 40 percent of Somalis rely on remittances for survival," he said.  "If the $1.3 billion does not come through, you end up throwing millions more people into a crisis situation, and then the international community then has to pick up the pieces and will end up spending a huge amount more money on aid, instead of allowing Somalis to look after themselves and look after each other."
Merchants Bank had been under intense pressure from U.S. government regulators to more closely monitor money transfers to Somalia, or risk falling afoul of laws prohibiting money laundering and funding terrorist organizations.
Remittances as lifeline
But Laurent Bukera, head of the World Food Program in Somalia, says that most of this remittance money is actually used for food.
"Unfortunately, the issue here is that about 70 percent, or a large majority, of what comes as remittances to Somalia is said to be used for food," he said.  "So a reduction of the remittances would indirectly have an impact on the food security."
Merchants Bank is not the first to restrict money transfers to Somalia.  In 2012, Barclays Bank in Britain announced that it would also close the accounts of Somali money transfer organizations, although they later reversed the decision.
According to Oxfam, Somalia is one of the most remittance-dependent countries in the world.  Somali-run money transfer organizations are essentially the only way to send money into the country, but Pomfret says it is becoming more and more difficult for them to access banking services in the West.
"It is all about perception and confidence.  The reason why banks do not want to bank Somali remittance companies is the perception of Somalia as a chaotic place with war, terror, piracy, uncontrolled, no ID, no banking system," he said. "I would say that it is very rare that people making decisions in banks have been to Somalia, have spoken to Somalis [and] understand the actual situation."
The presence of al-Shabab, declared a terrorist group by the U.S. government in 2008, has complicated the work of aid organizations in Somalia.
But Pomfret insists anti-terror measures do not have to mean cutting Somalis off from their families' support.  A more rigorous verification regime at every step of the transfer process could ensure the money stays out of the hands of al Shabab, he says.
"They are calling it a safer corridor in order to get banks to feel more confident about being engaged in that market.  Now we are asking for a similar process in the United States," he said. "If they prioritize it, it is very clear that they could deal with this issue and solve this issue."
With so much at stake, Pomfret adds, remittances should be seen not just as a banking issue, but as an urgent matter of foreign policy.
Source: Wargeyska.so