Thousands of northeastern residents on Saturday begun a daring walk of over 800 kilometres from Garissa town to Mandera County in a bid to catch the attention of the international community over rising insecurity in the region.
Speaking to the press after flagging off the historical walk that will take about 30 days, Garissa assistant Sub-County Commissioner Stephen Orindi said it is an important initiative by the local youth to sensitise their people on the importance of collective and individual responsibility.
"Security is not only the work of government officials and security agencies but it is the role of every patriotic Kenyan to play their role to ensure criminals do not get a chance to harm us," he said.
Garissa County Executive members Muktar Bulale (Water) and Sophia Sheikh Omar (Agriculture and Fisheries) who represented the county government and walked for 11 kilometres from Tana Bridge to Modika, praised the event organisers saying it was a noble initiative.
Activist Salah Abdi Sheikh who is one of the organisers of the march said the walk is aimed at raising global attention on the impact of terrorism that has led to near alienation of an entire region from the rest of the country.
He said they want to use the walk to create awareness among communities in the northern region faced with immense challenges ranging from terrorism, clan skirmishes to other natural calamities, to unite and face those challenges head on.
"We want communities to think much about many things that unites them so that we can promote peace in a region that has seen many clan related violence that left many people dead and scores injured," he added.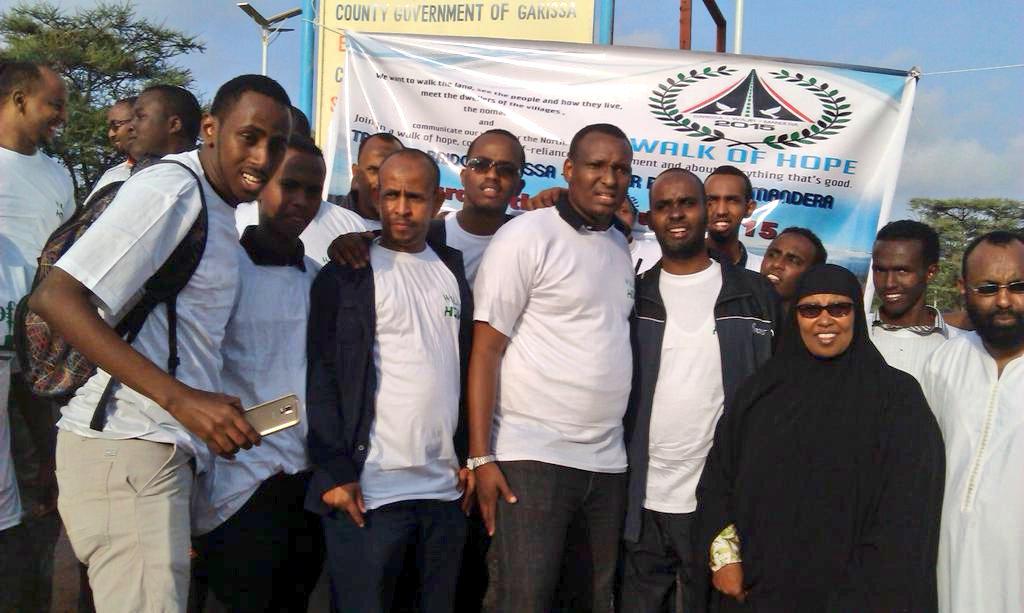 He said the team will be stopping in the villages along the way in a bid to sensitise them on the negative effects of the perennial clan conflicts, while at the same time promoting the benefits of peaceful co-existence among various clans.
He said rescue vehicles to assist those who will be overwhelmed by the harsh terrain – scorching sun, wild animals and snake bites- will be available during the walk and will be manned by a team of medical personnel who will be among the team of the participants.
The walk of hope comes at a time when all essential sectors including education and health in the region have collapsed in the face of terror that has scared away from the region non local professionals after they became a target of the terrorists.