UEFA general secretary Gianni Infantino has agreed to stand as a candidate for the FIFA presidency, European football's governing body said on Monday, adding that he had its full support.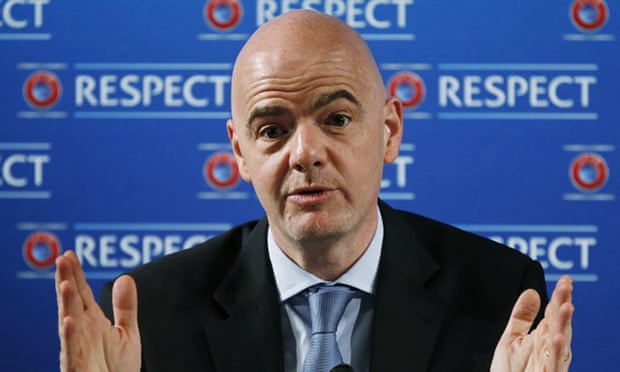 The announcement came on deadline day for candidates to register their nominations for the election of football's crisis-torn governing body which will take place in Zurich on Feb. 26.
Two more eleventh-hour candidates, Bahraini royal family member Sheikh Salman Bin Ebrahim Al Khalifa and Liberian football chief Musa Bility, confirmed on Monday that they were running for FIFA president.
FIFA, the governing body for world football, is embroiled in the worst scandal of its 111-year history, the United States having indicted several FIFA officials for bribery, money laundering and wire fraud in May.
Swiss authorities are also investigating the decision to award the 2018 and 2022 World Cups to Russia and Qatar, respectively.
UEFA's announcement came amid uncertainty over how many candidates would be able to run, especially because of the rule which requires them to have the written backing of five national football associations (FAs).
Platini has also registered, but his chances are slim because of the investigation against him.
On Saturday, South Africa's Tokyo Sexwale, a former Apartheid-era political prisoner turned businessman, announced he would stand.
Former Trinidad and Tobago midfielder David Nakhid says he has submitted his papers to FIFA, along with former FIFA deputy general secretary Jerome Champagne and Jordanian Prince Ali Bin Al Hussein.
Former Brazil international Zico has been campaigning but has admitted he is struggling to get the backing of five FAs.
Another candidate, South Korea's Chung Mong-Joon, pulled out of the race on Monday. A scion of South Korea's Hyundai industrial conglomerate, Chung was banned from the sport for six years by FIFA, after an investigation into the decision to award the 2018 World Cup to Russia and the 2022 tournament to Qatar.
"Even though I can no longer stand for FIFA President, there is much left for me to do," Chung said. "I will continue to work with all those who love football to bring about legitimate changes from within FIFA."