A group of al-Shabaab militants on Friday, June 3, ambushed Kenyan police officers in Mandera County.
The police officers were traveling in two vehicles heading to Arabia from Mandera town.
Three police officers were injured in the Mandera attack and are undergoing treatment at Lafey hospital.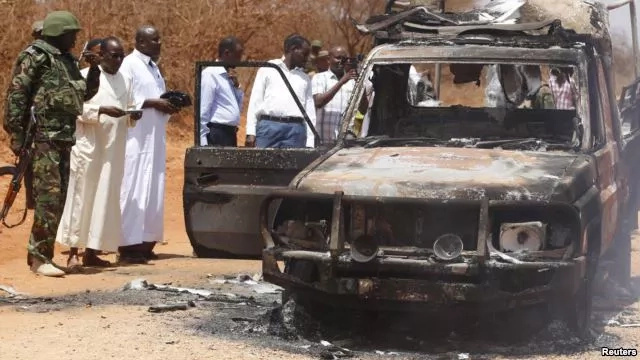 FILE PHOTO: Security officers and government officials inspect a police car that was burnt during an attack on a convoy escorting the governor of Mandera region Ali Roba outside Mandera town, near Kenya's border with Somalia and Ethiopia, March 13, 2015. Photo/Reuters
According to police the militants had planted land mines on the road near Arabia town.
Sergeant Bishar Issack, one of the drivers of the police vehicles attacked said they exchanged gunfire with attackers who were on the road.
Police also said the militants raided Alungu post office but were repulsed by officers on duty at the facility.
Mandera county commissioner Fredrick Sishia has ordered for the deployment of more General Service Unit (GSU), Administration Police and Kenya Defence Force to the hostile area.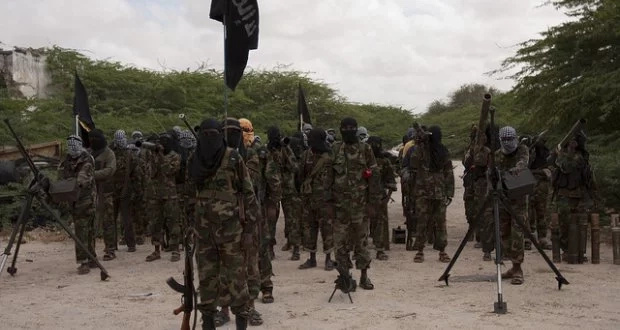 Al-Shabaab fighters Photo/harar 24
The Mandera attack on the police officers comes just days after the government had issued warnings on possible attacks by the terror group in the area during the month of Ramadhan.
Police had named areas that could be targeted by al-Shabaab attacks with Arabia being one of the vulnerable areas in Mandera county.
Other areas in Mandera named as al-Shabaab targets are Fino and ElWak areas.
Other areas in danger of attacks are: IIkambere, Kolbio areas in Garrisa county and Boni Forest in the coast region.
The warnings on possible attacks had come after intelligence sources said several groups of al-Shabaab militants had infiltrated into Kenya across the border with Somalia.
__________________________________________________________________RELATED ARTICLE
Kenya on high alert against al-Shabaab during Ramadhan
Kenya police have issued a warning to the public to be vigilant of terrorist attacks during the holy month of Ramadhan.
Police said the terror group is planning to use the month to carry out attacks on Kenyans.
Inspector General of Police Joseph Boinett said police and other security organs have beefed up security to protect Kenyans.
Police gave the areas vulnerable to attacks by al-Shabaab. The areas facing threats of attacks are Arabia, Fino, Elwak in Mandera country.
Other areas in danger are IIkambere, Kolbio areas in Garrisa county all in the northeastern part of Kenya and Boni Forest in the coast region.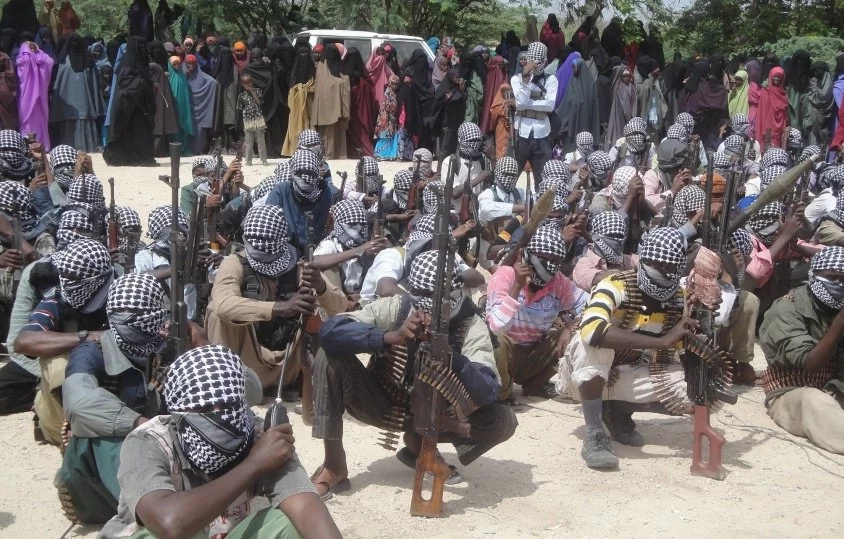 Militants from al-Shabaab group. Police have warned of an impending attack during the Muslim holy month of Ramadhan. Photo/AP
Boinett said Kenyans who live near the Somali border should be vigilant and report anyone suspicious.
"We there wish to ask all Kenyans especially those living close to the Kenya/Somalia boarder to exercise extra vigilance and report any suspicious individuals to police," Boinnet said.
The police chief said al-Shabaab are fleeing to Kenya after being defeated in Somalia.
"Whereas the police as well as other national security agencies are still vigilant to deter terrorist elements from sneaking into our country,

There are indications that some al-Shabaab terrorists fleeing from AMISOM action in Somalia, could be making attempts to infiltrate into our country and stage attacks during the Holy month of Ramadan," he said.
The warning by the police comes after intelligence services had denied 45 al-Shabaab fighters had entered Kenya.
Media reports had said three groups of al-Shabaab fighters had infiltrated into the country through Wajir County border with Somalia.
____________________________________________________________________________________