US intelligence agencies examining financial transactions between President's team and Russia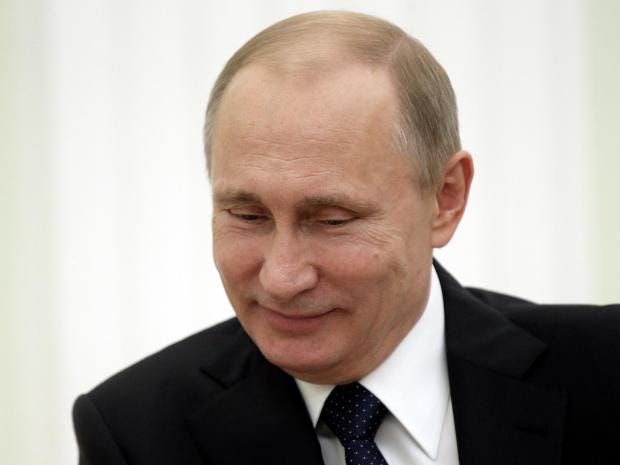 Moscow has attempted to distance itself from US President Donald Trump, saying the Republican is "not our man".
However, supporters of Vladimir Putin held all-night parties to celebrate Mr Trump's inauguration and Russian politicians hailed the property tycoon's election as the start of improved relations with Washington.
President Putin's press secretary Dmitry Peskov told Russian state broadcaster Vesti: "He is not our man, he is America's man.
"He is President of the United States of America.
"It must be the biggest mistake by Western analysts, by some of our political analysts, to consider him being our man."
US President Donald Trump and wife Melania dance at Liberty Ball
The Kremlin's statements come shortly after reports that US intelligence agencies were examining intercepted communications and financial transactions between the President's team and Russia.
The probe was said to focus partly on business dealings with Russia by some of Mr Trump's advisers, both past and present.
It has been reported that Mr Trump's former campaign chairman Paul Manafort is among those under investigation.
However, a spokeswoman for the new President said: "We have absolutely no knowledge of any investigation or even a basis for such an investigation."
And Mr Manafort told the New York Times that claims he had dealings with the Russian government were a "Democrat Party dirty trick and completely false".
A Kremlin spokesperson said Mr Putin was expected to call Mr Trump in the coming days to congratulate him on taking office.
Mr Pescov told the BBC the Russian President was ready to meet America's new leader, although the visit could take some time to organise.
"This will not be in coming weeks, let's hope for the best, that the meeting will happen in the coming months," he said.
Russian state broadcasters have carried flattering reports about the former reality TV star, chronicling his business achievements and detailing his ritzy lifestyle.
Senior Russian politicians also spoke with disapproval about anti-Trump protests and criticised CNN for speculating about possible succession if Mr Trump was assassinated in an attack on the inauguration day.
"That atmosphere shows us the flaws of Western democracy, particularly in the United States," the ultra-nationalist leader, Vladimir Zhirinovsky, said in parliament.
Mr Trump's promises to fix poor relations with Moscow have delighted Russia's political elite amid spiralling tensions with Washington over the Ukrainian crisis, the war in Syria and allegations of Russian meddling in the US elections.
Russian Prime Minister Dmitry Medvedev said that while Mr Trump's policy toward Russia was unclear "we are hoping that reason will prevail". "We are ready to do our share of the work in order to improve the relationship," Mr Medvedev said on Facebook.
Many Russians view Trump's presidency with high hopes, and some nightclubs and bars held parties to celebrate the inauguration.
One all-night party organised by a former Russian MP affiliated to Putin's United Russia Party invited his Facebook followers to the event with the comment: "See you in the evening. Washington will be ours."
By Harriet Agerholm @HarrietAgerholm