The World Bank has identified remittances as one of the biggest contributors fuelling the economic growth of Somalia.
At a forum to update the Somali government, private sector and other stakeholders, John Randa, a World Bank official said the Somali economy has been on a steady rise but there is still so much to be done for the citizenry to see improvements in their daily lives.
"Somalia is consuming more than it can produce, which is not very good at this point," Randa noted.
"But that should not mean that there is nothing positive to say of the country's economy. There has been tremendous growth over the last five years and our projection of the next five years looks very good," he added.
He stated that the country's GDP stood at USD 6.2 billion and a five percent nominal growth.
The official acknowledged the contribution, among them job creation, played by the private sector including Dahabshiil in the Somali economy.
He, however, noted that there is room for them to contribute further to increase revenue.
"The diaspora has played a pivotal role through their remittances, which have in turn helped Somalis. These were especially vital during the extended drought that had so many negative effects across the Somali regions."
The World Bank official spoke during a meeting held at Stanley hotel on Thursday.
Hugh Riddle, country representative for the World Bank, said the institution recognises the different roles played by stakeholders including the private sector in growing the country's economy.
Former government ministers, the private sector and other stakeholders attended the forum.
Abdirashid Duale, CEO Dahabshiil – which is one of Africa's largest money transfer companies, lauded the commitment of the World Bank and other international finance institutions for contributing to the growth of Somali's economy.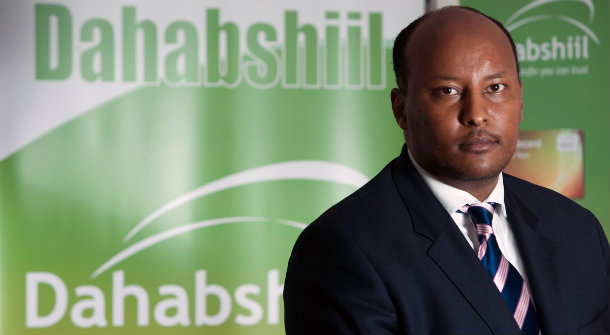 "We are encouraged with what the World Bank is doing to promote investment," said Duale.
Duale said he appreciates every effort the government and the World Bank is doing to build the country's economy and create employment and investment opportunities for the youth. Duale
Somali minister for fisheries Abdirahman Mohammed Abdi Hashi said the government has practical measures to build the economy and increase domestic revenue.
"The government is doing its best to meet the needs of the population. We want to create an environment that is conducive for private sector to thrive and one of that will ensure there is security in the country," he said.
"If the economy grows, the private sector will thrive and Somalis in diaspora will come back home and invest here."