Following a drought in 2016/2017, families across Somalia have suffered loss of income and displacement. ACTED's cash transfer programme empowers affected households to absorb the shock of climate-related disaster while maintaining their economic autonomy.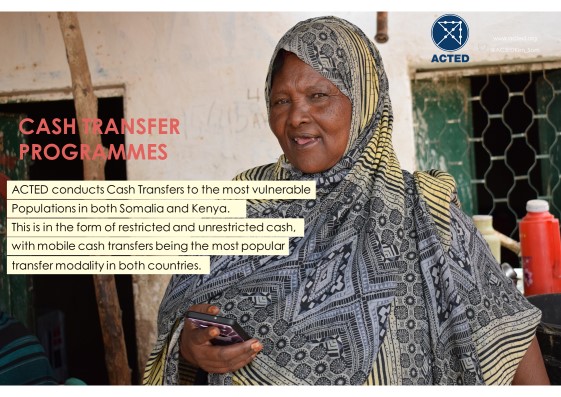 When the federal government collapsed in 1991 and war broke out, Fadumo fled with her family of ten from Mogadishu to Garowe District. Before leaving Mogadishu, Fadumo's husband was the primary breadwinner, but since moving to Garowe, he has not been able to find work. So, Fadumo has worked to feed and support her family. At 60 years of age, she never imagined she would still be living in a small village without a steady income.

When the 2016/2017 drought hit their village, Fadumo, like many other Somalis, lost all her cattle, sweeping away her main source of income. Fadumo is among 2,991 households that have been receiving predictable cash since March 2017. The cash transfer project is implemented by the Somalia Cash Consortium and funded by the European Union Humanitarian Aid (ECHO). It aims to save lives while reducing the risk of famine in Somalia through multi-purpose cash transfer.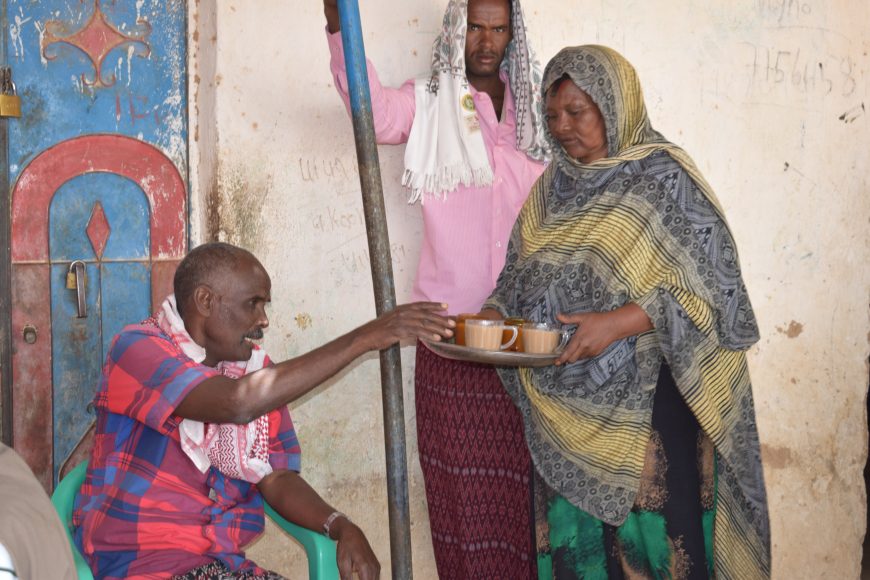 When ACTED visited Fadumo, she was seated quietly at her tea shop waiting for her usual customers to arrive. She started the tea shop to provide for her family an alternate income source to keeping livestock. With the money received through ACTED's cash transfer programme, Fadumo prioritized her family and catered for their most pressing needs like food, water, shelter and education for the children. However, she was also able to save some of the cash and expand the tea-shop to serve a larger group of people. The savings enabled her to invest in a viable business with a sustainable income to support her growing family's needs.
A few kilometres from Fadumo's village, Faiza and her family of five live in Gurey IDP camp. The settlement is filled with families who have been displaced from their communities due to drought.  Like others in the camp, Faiza was a farmer in Baardhera before the 2016/2017 drought hit her village. When she arrived at the camp, she had nothing to call her own. She worked causal jobs but struggled to make ends meet.  As the sole provider for five children, she found it difficult to balance between the need to work and the need to care for them. Like Fadumo, Faiza's life took a positive turn when hers became one of the many vulnerable households selected to benefit from the cash transfer programme.
The impact of cash has been profound for her family. She used the cash to feed her children, pay rent and access healthcare. While the money might not be enough to cover all of her family's needs, she says it has pulled them out of deep poverty.

Before the project, Faiza could not afford to buy food for her family, so her children would go for days without a proper meal. Now, she can afford to give her children two to three meals a day. Although Faiza has not been able to save money, the cash allowed her to meet her family's needs that arose For example, in May 2018, Faiza received a cash entitlement when she was about to go into labour. This enabled her to access healthcare and give birth safely.
Promoting
economic autonomy through cash

transfers
In this project, the targeted households received an equal amount of 70 dollars each month for a period of six months. The cash gives affected households the choice and flexibility to allocate resources to the needs they find most pressing.