His excellency the President of the Republic of Ireland, Michael D Higgins, today warmly received the high-powered Somaliland delegation led by His Excellency Ahmed Mohamed Mohamoud, the President at Aras an Uachtarain, the official residence of the president of Ireland, located in Phoenix Park on the northside of Dublin.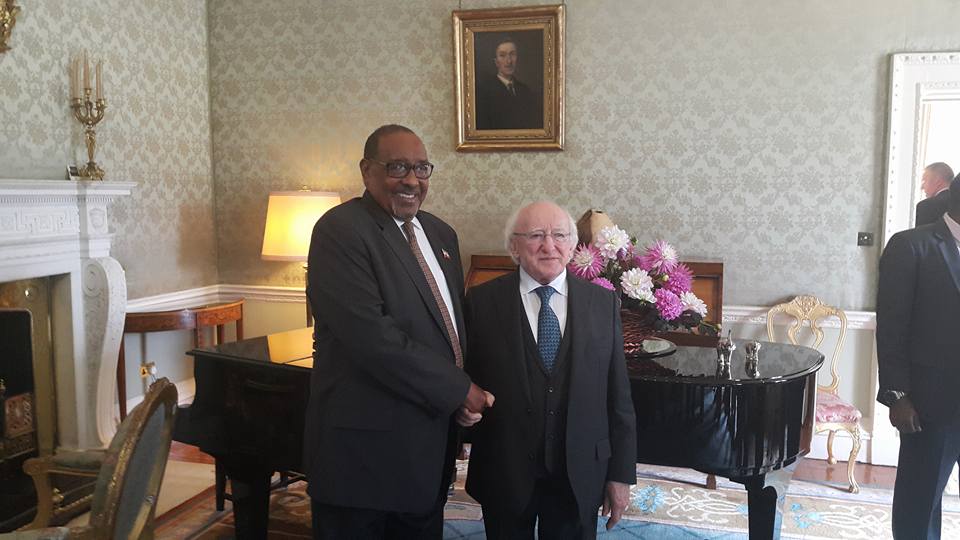 Present at the meeting of the Presidents of Ireland and the Republic of Somaliland, on the Irish side, was Vice Admiral Mike Mellet (DSM), the Chief Commander of the Ireland armed forces.
The two sides discussed issues of mutual interest that brought the two sides closer. Ireland and Somaliland agree to fully cooperate on several forums foremost of which revolved around development on a number of spheres.
With the president at this meeting was the First Lady, Amina Mohamoud Jirdeh, the Presidency Minister, Hersi Ali Haj Hassan, Minister for Foreign Affairs, Mohamed behi Yonis, Minister for Health Suleiman Essa 'Haglatosie', Minister for Information, Abdullahi Mohamed Dahir, Somaliland Ambassador to the UK, Ali Awale Dahir and a number of other dignitaries.
A number of hypotheses had been developed of this most conspicuous visit of the President of Somaliland and his delegation among which is that the UK and Ireland were visibly thawing towards a soon-to-be-fully-sovereign Somaliland wholly accepted and diplomatically embraced by an international community that had been looking the other way for over 24 years since the country's re-affirmation of its independence on May 18 1991.
Either way, President Siilaanyo's visit to the Republic of Ireland at this most opportune time in a fast-developing Somaliland portends nothing but good tidings, new friends for the Republic of Somaliland and its most resilient, most persevering public.