Farah's relationship with Jama Aden, suspected of breaking anti-doping regulations, has tarnished what was a truly great 10,000m run on Saturday.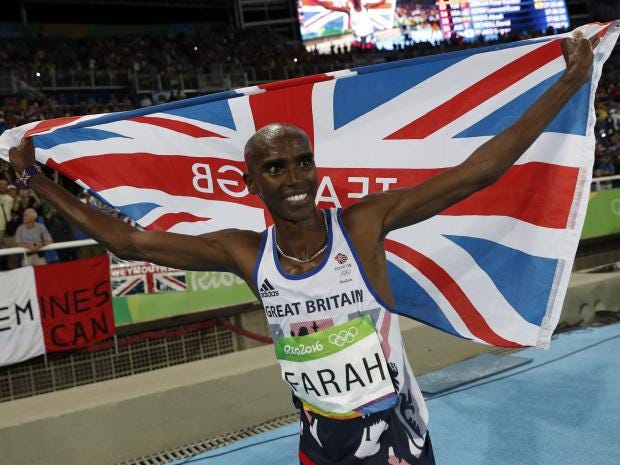 The stadium was draining of people when Mo Farah stepped up to the podium. That was deeply unworthy testament to an epic 10,000m run; the greatest we have seen from this athlete who, God knows, has shown us what that word 'great' looks like in the past four years.
Farah's testimony revealed just how shocking to him his fall to the track, after a collision with his American training partner Galen Rupp, actually was. "I was just thinking: 'Try and get up as fast as you can,'" Farah related later. "I was thinking: 'Don't panic, don't panic, don't panic. There were quite a lot of laps left so I was just trying not to panic, get through it and get my rhythm. I was asking myself: 'Is the race done? Is the race done? I thought: 'No, I've worked too hard for this'."
Astonishing testimony – and testament to the uncertainties that exist in his line of work – even when, like him, you have not lost a 10,000m race in five years. Had he fallen just a few laps later, then his fall would have been Farah's Mary Decker moment.
"As soon as I got up I was thinking: 'Did they see me and make a surge,'" Farah said when it was over. "Yes, I think if it happened with five laps to go it would have been over."
The world had come to worship Farah when he related all this. In the circumstances, it was brave to bring up the question of Farah's relationship with individuals who are suspected of breaking anti-doping regulations – as the Irish writer Ewan MacKenna did late on Saturday night.
Why, Farah was asked, did he work with Alberto Salazar, a coach who is being investigated by the United States Anti-Doping Agency [Usada]? Why did he associate with Jama Aden, who was arrested in June a part of a drugs surveillance operation? And John Smith, who was named in official documents connected to the drugs scandal that brought down Dwain Chambers and Marion Jones?
"Obviously it's a small sport," Farah said, when it was suggested he was photographed at Aden's house. "Every athlete knows someone. When someone asks for your picture you aren't going to say no, are you?"
Doubts about the propriety of an athlete are unjustified until they can be backed up by evidence, though Farah's choice of friends does not help him. He is not so universally loved as he was in London four years ago and he can do something about it. Drop these people.
The reasons why were revealed in a performance of such epic dimensions that you wanted nothing to detract it. He leapt up after the fall, calculating in that enormous moment how he could avoid stumbling into the path of others who were racing by. A conversation with Rudd ensued. Then he split the Kenyans who had vowed to combine to defeat him. Then he drove on, with that extraordinary finishing kick, to clinch gold.