In collaboration with Forum Syd, Hangool Foundation and Inspire Group have organized the first-ever Practice Parliament for women in Somaliland which is to coincide with the ongoing efforts about ensuring and adoption of gender quotas in the upcoming Somaliland parliamentary elections. 
Hangool Foundation and Inspire Group are proud to host the the first-ever Practice Parliament for Women in Somaliland workshop, which is to coincide with the ongoing efforts about ensuring and adoption of gender quotas in the upcoming Somaliland parliamentary elections. pic.twitter.com/QZF0piItjj

— Inspire Group (@InspireGroupAF) October 28, 2019
 In an effort to improve women's political participation in Somaliland, considerable work has been done to promote women's representation.  
In recent years, with the support of Forum Syd and other partners, Hangool Foundation and  Inspire Group introduced a novel approach to building the capacity of women candidates including the first-ever Symposium on Women's Rights and Empowerment in Somaliland which discussed Women Rights and Empowerment to raise awareness on issues, provide opportunities and increase women and girls' inclusion in decision making, politics, economic and social activities so they can take part in the development of Somaliland in the upcoming years.  
Promoting gender equality as an integral aspect of a democratic society has become a key area of activity for many civil society organizations, particularly in the sphere of politics. In this regard, Hangool Foundation and Inspire Group are committed to contributing to democratic consolidation by strengthening governance mechanisms in support of gender equality and promoting open, transparent and inclusive decision-making processes in Somaliland. 
Operating from their previous work and core objective – which is building a gender-balanced Somaliland, Hangool Foundation conducted a crucial workshop on "Practice Parliament for Women in Somaliland" which was to enable women to develop skills relevant to public policy and legislative participation and to give them an opportunity to apply these new skills immediately. 
"Women have to grapple with three hurdles presently blocking their vision to the
very top in politics: projecting their might and mettle as women as leaders among themselves and to society at large; rising to prominence in power-hierarchies with parties they belong to; and in learning to run against each other and against male counterparts and present to constituents winning themes and manifestos," Sam Dualeh, C-Founder of Inspire Group said, introducing the workshop theme to participants.
The Practice Parliament was covered by the media, as this contributes to building the general public's recognition of the capacities and value of women's engagement in decision-making and politics.  
"This kind of workshop provides requisite skills for women with political ambitions. The government of Somaliland, it goes without saying, cordially welcomes women's rightful participation in all of its executive,  legislative and the judicial branches. Women who know where they going, what they are going to do there – once they are there – is an added bonus which workshops as this one provide," the Honorable Mohamed Adan Somaliland Constitutional and Councils' Coordination, officially opening the workshop, said.
"We are very delighted to support this conference and all other valuable work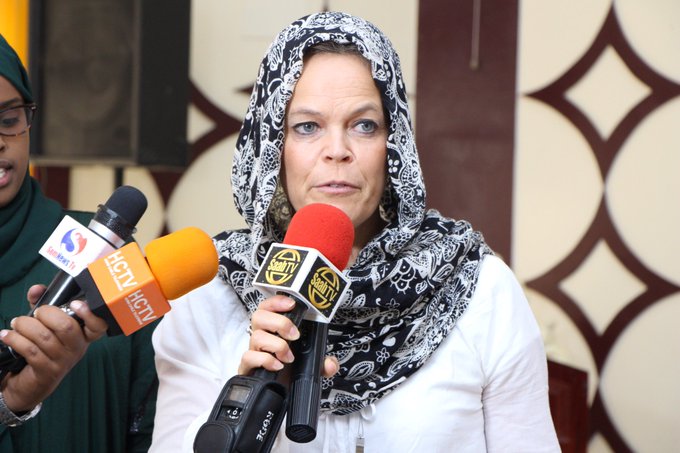 that our partners are doing in the region to promote women's political participation and support political skills development for aspiring women leaders," said Anna Stenvinkel, the Secretary-General of Forum Syd.  
"This reflects Sweden's foreign policy on assisting women to find a leadership role in society which is shaped around strengthening respect for women's human rights, increasing women's political representation, and ensuring a gender perspective applied in the distribution of resources," She added. 
"You have a vital role to play in society. Society needs you. It is not the way round. The stamina, the dedication, the emphasis you put on perfection are indispensable to proper, best practice governance," Abdirashid Ibrahim, Director-General of Employment and Family Affairs, stated.
"Women deserve to be part of all political spheres of the country. We can't ignore
over 50% of the population. Anything for them but without not fully involving them is against them. Let's ensure to provide them space in politics. I am ready to support that cause, are you?",  Abdiaziz Saed Salah, National Youth Organization emphatically expressed.
Anna Stenvinkel, the Secretary-General of Sweden's largest civil society platform – @ForumSyd – along with Mohamed Haji Adan Elmi Somaliland's Minister of Parliamentary and Constitutional Affairs, Abdirashid Ibrahim Abdirahman, the Director-General of the Ministry of Labour & Social Affairs, Abdiaziz Saed Salah, the Chairman of Somaliland National Youth Umbrella (SONYO) and Bashir Hashi Forum Syds country Director were among the dignitaries who attended the Practice Parliament. 
Hangool Foundation and Inspire Group are proud to host the the first-ever Practice Parliament for Women in Somaliland workshop, which is to coincide with the ongoing efforts about ensuring and adoption of gender quotas in the upcoming Somaliland parliamentary elections. pic.twitter.com/QZF0piItjj

— Inspire Group (@InspireGroupAF) October 28, 2019