Droughts and flooding are increasingly commonplace in the Horn of Africa — which is experiencing the worst drought in 40 years.
In response, the aid sector has scaled up emergency cash transfers in recent years — but this is a short-term solution. To create longer-term resilience, the sector is working with governments in Somalia and Somaliland on distributing social protection cash transfers — which are more dependable and longer term — as part of efforts to build a broader social safety net system.
"Humanitarian cash focuses only on saving lives — it does not contribute to the reduction of poverty," said Mohamud Isse Yusuf, social protection program manager at Save the Children Somalia. "If communities receive cash transfers for a long period of time, it will build their resilience against future disasters."
As part of this, the Somali Cash Consortium, a coalition of NGOs, is providing cash transfers to pregnant and lactating mothers in Somalia and Somaliland. It hopes its cash programs can encourage them to visit health clinics regularly and improve their nutrition and that of their newborn child.
"The women in the program come more regularly than other mothers. It also encourages other mothers to come, because they think that one day they will be involved in the program," said Filsan Mohammud, a nurse at a maternal health center in Puntland's Yake village.
By  Sara Jerving
---
RELATED STORIES IN PICTURES
HARGEISA, Somaliland — It was midmorning two years ago when Khadan Yusuf went into labor. It all happened so quickly. She fainted and about a half-hour later woke up to the sound of her son crying. The birth happened at home.
"It was his first cry — and also his last," she said. The baby cried for five minutes and fell silent.
She was taken to a private hospital, at the cost of about $200, to save her own life. She was told she has high blood pressure. She hadn't been to a health clinic during her pregnancy.
"He belonged to Allah, and he returned to Allah," she said, recalling the tragic morning. This was her second child to die shortly after birth.
After his death, Yusuf committed herself to attending regular health clinic visits. She became pregnant last year and attended all her visits. In January, she delivered a healthy daughter.
"For her," she said, cradling the baby swaddled in scarves in her arms, "I hope she lives a long, healthy life — and when old age comes for me, I hope she takes care of me."
In her final trimester, Yusuf was enrolled in a program to receive $20 through mobile money cash transfers each month. The payments last two years. She has used the money to pay her water bill, as well as to buy food, diapers, and powdered milk for her other children. She is unemployed, and her husband is a taxi driver.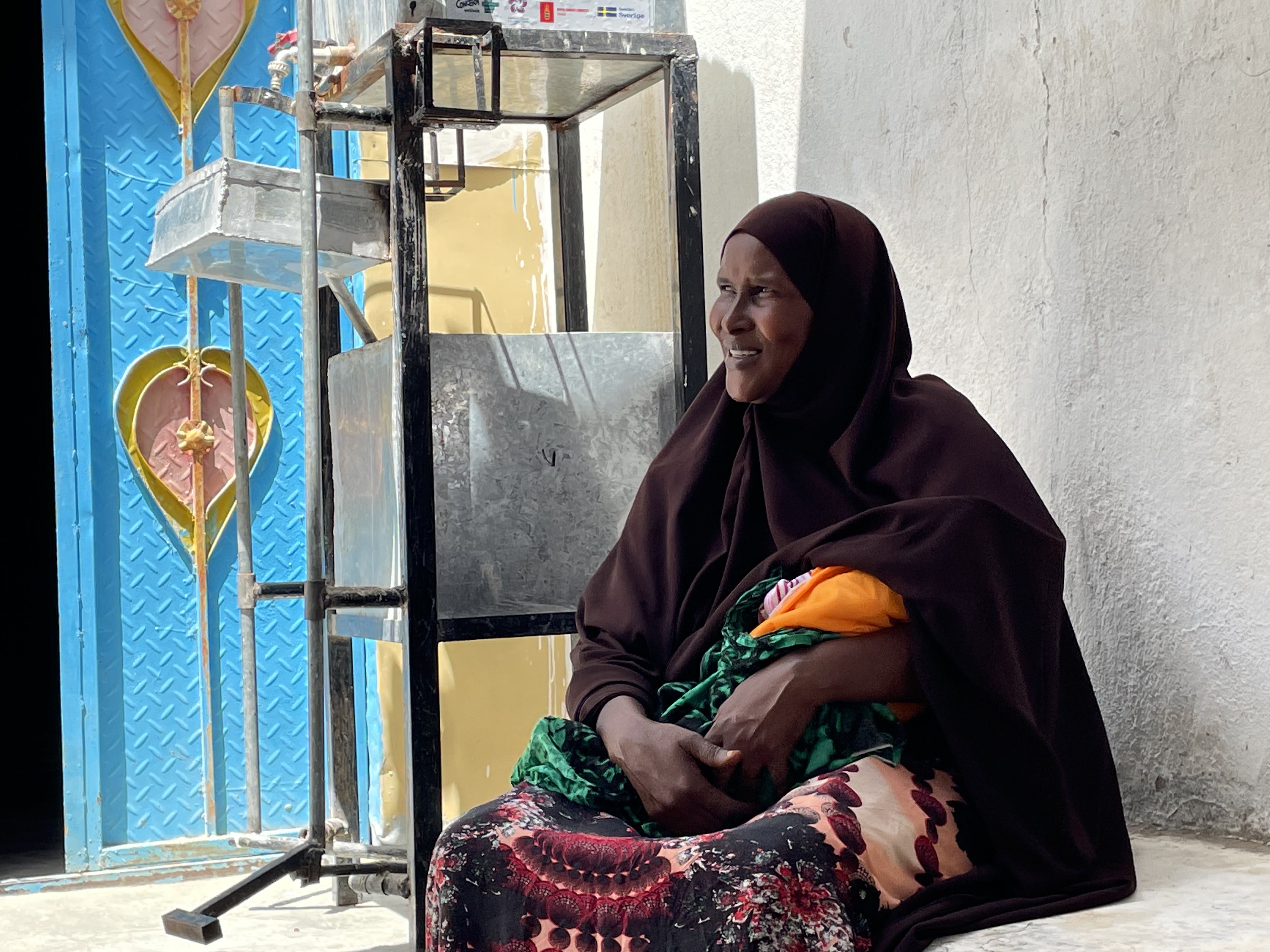 The cash is provided by the Somali Cash Consortium, a coalition of NGOs including Concern Worldwide, the Norwegian Refugee Council, Save the Children, and the Danish Refugee Council, with funding from the European Union delegation to Somalia, and Swedish and Danish Embassies. The consortium has registered over 20,000 pregnant people across Somalia and Somaliland. It works in coordination with the governments of Somalia and Somaliland — the latter unilaterally declared independence from Somalia.
The consortium hopes its cash programs can help others avoid the pain Yusuf experienced, by encouraging pregnant people to visit health clinics, among other healthy behaviors.
"The $20 can be used by the beneficiary in the way they feel is essential to them. They know what the priorities are in their house. … These are their choices to make, not ours."
About the author
Sara Jerving is a Senior Reporter at Devex, where she covers global health. Her work has appeared in The New York Times, the Los Angeles Times, The Wall Street Journal, VICE News, and Bloomberg News among others. Sara holds a master's degree from Columbia University Graduate School of Journalism where she was a Lorana Sullivan fellow. She was a finalist for One World Media's Digital Media Award in 2021; a finalist for the Livingston Award for Young Journalists in 2018; and she was part of a VICE News Tonight on HBO team that received an Emmy nomination in 2018. She received the Philip Greer Memorial Award from Columbia University Graduate School of Journalism in 2014. She is based in Nairobi and has reported from over a dozen countries.

---
Devex