For the third time in a week terrorists carried out a mass slaughter of civilians – with ISIS claiming responsibility.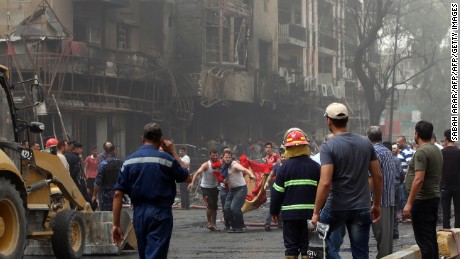 A suicide car bomb killed 125 people, including 25 children, Saturday evening in a busy shopping district in Baghdad.
It was the deadliest attack in Iraq since 2007.
Families had gathered in the popular area to break the Ramadan fast and watch the Euro 2016 soccer tournament in a cafe when a suicide car bomb exploded, ripping through a multi-level building that also housed stores and a gym.
At least 147 were injured.
A second bomb exploded Sunday at an outdoor market in the Shaab neighborhood of southeastern Baghdad, killing one person and wounding five others, police said.
"These acts of mass murder are yet another example of Da'esh's contempt for human life," said State Department John Kirby, using another term for ISIS. "From Baghdad to Istanbul, Brussels, Dhaka, and Paris, Daesh terrorists murder the innocent to attract attention and recruits. They will not succeed."
ISIS, also known as ISIL, acknowledged territorial losses to Iraqi forces in May as it promised an uptick in terror attacks during the holy month of Ramadan, which ends this week.
Bombing comes after Iraqi gains against ISIS
ISIS claimed responsibility for the Karrada attack in a statement posted on Twitter. The group claimed it was targeting Shiite neighborhoods. Karrada and Shaab are predominately Shiite.
Many of the car bombers and suicide bombers who have plagued the capital for years are from Falluja, about an hour away. When Iraqi forces retook the city recently from ISIS, authorities assured Baghdad residents that the bombings would stop.
"Obviously this will reignite the anger of ordinary people who say we can't even go out at night and enjoy life in our city," according to CNN Senior International Correspondent Ben Wedeman.
Witness: 'I lost several friends'
College student Sadeq al Zawini, 25, was watching as rescue workers pulled bodies from the rubble.
"We've had it with the Iraqi government and politicians. They can't continue blaming Da'esh and other terrorist groups. We need a solution," he said. "I lost several friends myself, some are still missing," he said, sobbing.
The anger of residents manifested itself when Iraqi Prime Minister Haider al-Abadi and other officials attempted to survey the bomb damage.
Amateur videos posted on social media showed residents throwing objects at a convoy carrying al-Abadi in Karrada. The videos showed protesters yelling "thief!" and "get out!"
In a statement, al-Abadi said he understands the reaction in "that moment of grief" by the residents who threw objects at his convoy.
He said he came to Karrada to console families and "share their sorrow in this painful tragedy that happened." He said ISIS tried to hijack the joy that Iraqis felt over
recent victories against ISIS in Falluja.
The Iraqi government has declared three days for public mourning.
International reaction
"This is a cowardly and heinous act of unparalleled proportions, to target peaceful civilians in the closing days of the holy month of Ramadan including shoppers preparing for the Eid-ul-Fitr holiday," Ján Kubiš, the Special Representative of the United Nations Secretary General (SRSG) for Iraq, said in a statement Sunday.
The White house issued a statement saying: "These attacks only strengthen our resolve to support Iraqi security forces as they continue to take back territory from ISIL, just as we continue to intensify our efforts to root out ISIL's terrorist network and leaders."
UNICEF reacted to the death of 25 children in the attack.
"The killing and maiming of children is a grave violation under international humanitarian law," the group said in a statement. "As violence across Iraq intensifies, children continue to pay the heaviest price."