The government of Kenya, Monday, turned away a member of the Somalian Cabinet of Ministers and two MPs at Jomo Kenyatta International Airport while, on the same day, as Some Somalians pointed pout, permitting a high-level delegation from Somaliland on a direct flight from Hargeisa, to enter.
Somalilans, both on social media platforms and on conventional media, expressed grave concern on how Kenya treated officials who flew from Mogadishu destined for Nairobi via Wajir.
Kenya asked the travellers to produce their Kenya visa which they failed to do. Other ministers and MPS who had alternative passports on hand were permitted to enter which fact made the Mogadishu contention that Somalia and Somalians were intentionally targeted obsolete.
Night over at JKIA
Somalia Deputy Minister of Water and Energy, Osman Libah and Senators Ilyas Ali Hassan and Zamzam Dahir spent the night at Jomo Kenyatta Airport before they were put on a plane to Mogadishu next day, Tuesday.
Somalia claimed that it was not apprised of any change to the traditional arrangement of providing visas to diplomatic passport holders upon arrival between countries who have diplomatic representation in each other's country at any time before the incident.
Somalilans also claimed that the refusal to entry was nothing but an extension of the simmering spat between the two countries on account of disputed maritime oil rights and sovereignty of said areas thereof. The state of affairs between the two countries has become the theme of many satiric broadcasts on both sides of the border of which the one below is an apt example by presenting, in this case, the Kenyan view of the matter as has been expressed time and again officially, legally and otherwise.
Asked to comment on the matter, Kenya's Foreign Affairs Cabinet Secretary Monica Juma said she was 'unaware of the details of the incident' but she would be surprised if people who had valid entry visas were turned away.
"I would be very surprised if anyone with a valid visa was turned away," she said.
CS Juma suggested that without valid visas produced, JKIA officials had every right to deny errant travellers entry to the country.
She added that Kenya was not alone to demand that visa procedures be followed without fail.
Kenya stopped direct flights from Mogadishu earlier in the flight, ruling that passengers must stop at Wajir airport for vetting before they were permitted to proceed to Nairobi. Such was the case some time ago before the two presidents of Somalia and Kenya arrived at an arrangement to cancel the Wajir mid-route stopover.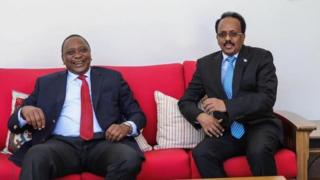 Somaliland
On the other hand, a high-level delegation of Ministers, and Somaliland national parties officials flew directly from Hargeisa, the capital of the Republic of Somaliland, to Nairobi on Sunday.
The Kenya Parliament Majority Leader, Adan Barreh Dualeh, cordially received the Somaliland delegation at his office on Monday.
The contrast was not lost on Somalia. Neither was it missed in Somaliland. In the former, it was with consternation. In the latter, jubilation.
In late April, this year, CS Juma started arrangements to establish diplomatic representation in Somaliland. The Mission will, also, according to Ambassador Bashe Omar, head of the Somaliland Mission in Kenya, foster trade between the two East Africa countries. Somaliland, as a British Protectorate, gained independence in 1960. Kenya, also, took its hard-won independence from Britain in 1963.
The Somaliland Mission, to be headed by Githiora Philip Mundia, a career diplomat, it is hoped, will, also, revive the historical and social ties between the two countries.
Somalians, without fail and/or the least reservation red-flagged, however, the development of affairs between the Republic of Somaliland and Kenya as one.
The Somalians view is that in making these diplomatic overtures to Somaliland, Kenya aimed to pressure Somalia to withdraw the maritime case from the ICJ. They believe that Kenya senses that it will be vanquished in court, and that it will not only lose much territory – rendering it somewhat landlocked but that its 'face' and international stature will be irretrievably damaged.
The video below, published Tuesday, 21 May, says it all.