A dirt track at Djibouti's Doraleh Port leads to a series of unassuming single-story buildings that, earlier this year, hosted the world's two superpowers.
The Chinese contingent took their seats to the far right of the podium where US Rear Adm. Heidi Berg formally launched the US-led military exercise, Cutlass Express.
Cutlass, and the handful of other annual US-led drills held throughout the African continent, are a low-risk and relatively low-cost way for US Africa Command (AFRICOM) to gain and keep regional allies.
But in Djibouti — a tiny nation of just 
884,000
 people that is a key Red Sea ally of the US — and throughout Africa, there's new competition for local loyalties from China's military, which is increasingly asserting its influence on the continent.
In 2017, China's People Liberation Army (PLA) opened its first overseas base in Djibouti. The sprawling, gray concrete complex sits on a prime location next to one of Djibouti's main ports — and is just a 15-minute drive from the US military's only permanent base on the continent, Camp Lemonnier.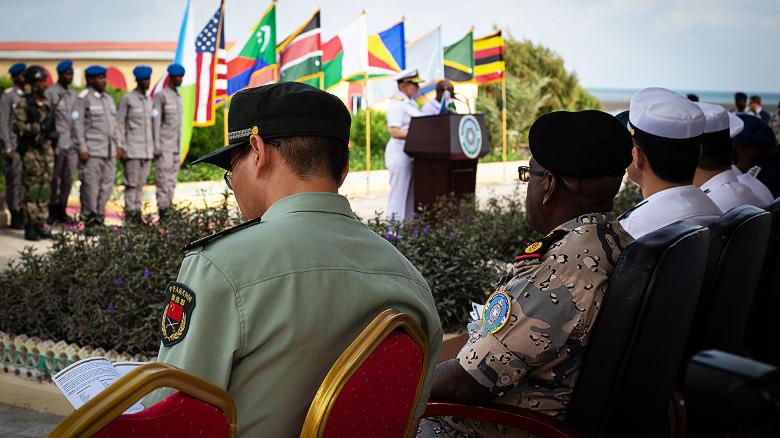 Lemonnier is a strategic asset for US missions abroad, used as a staging area for America's intelligence and counterterrorism operations on the African continent and beyond. One AFRICOM official, who was authorized to speak on the condition of anonymity, says the physical PLA presence in Africa is becoming a long-term strategic concern for America.
"They (China) have upped their game, in plain language, and ultimately they are offering things that our partners want, that our partners need," said the AFRICOM official. "In places, we have concerns we are being out-competed."
On the ground, however, both sides are engaged in respectful diplomacy. The night before the Cutlass Express, Chinese military officials invited Adm. Berg and her contingent on board a Chinese destroyer docked at the nearby harbor. And, for the first time, Berg welcomed PLA commander Liang Yang to the exercise's opening ceremony.
When Berg was asked to comment on the "us or them" narrative, she was quick to refocus attention on what the US can do for its allies.
"I think we want to ensure that we don't frame it … that Africa is a backdrop and an arena for us to score points off China," Berg said. "We are here and our investment and focus is on building our African partners."
"We are about to set out on a new journey in history,"
 he said.
Expanding in Africa
China has been expanding its military ties in Africa for years, through extended peacekeeping missions, military personnel training and the China-Africa Peace and Security Initiative forum. Chinese Foreign Ministry spokesman Geng Shuang said in 2017 that the Djibouti base was part of ongoing efforts to help bring peace and security to the region.
"The completion and operation of the base will help China better fulfill its international obligations in conducting escorting missions and humanitarian assistance … It will also help promote economic and social development in Djibouti," he said.
The US, naturally, viewed the base with unease, given its proximity to Camp Lemonnier and Djibouti's main container port, which is the primary source of supplies to sustain a force of around 4,000 US personnel on the base.
"It's no secret that roughly 98% of the logistics support for Djibouti, as well as Somalia and East Africa, come through that port," AFRICOM's commanding Gen. Thomas Waldhauser told a recent Senate committee briefing. "That port is one of five entities in the overall Djiboutian port. And so, our access there is necessary and required."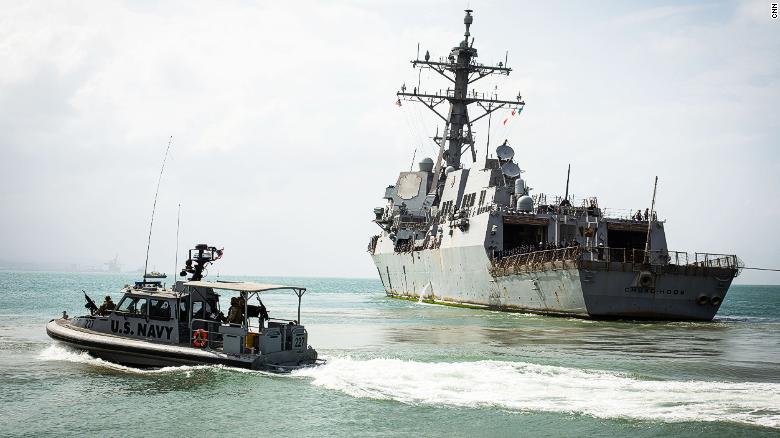 The loss of that access would be a devastating blow to American interests and operations. One way that could happen would be if China were to leverage its control over Djibouti's debt into control over Djibouti's ports. China holds around 80% of the country's debt.
"Perhaps the (Chinese) base would look hawkish or something suspicious or (like it is) something to fear, but Turkey has bases in the region, UAE has bases, Saudi Arabia wants a base, Japan has a base," said Wake Forest University assistant professor Lina Benabdallah, whose research focuses on China-Africa relations.
She said the Chinese base has riled the US because of a growing rhetoric of "fear."
"The lack of trust between Washington and Beijing is really spreading, and it's taken a global dimension," added Benabdallah.
Debt fears
In recent years, China has increased its decades-long military ties with African countries by expanding training programs and increasing weapon sales. It's now the number two arms supplier to sub-Saharan Africa after Russia and the number three supplier to North Africa, behind Russia and the US, according to 
research
 from the Stockholm International Peace Research Institute.
But at the heart of the US concern is China's lending practices on the continent. Since 2000, African countries have borrowed 
about $130 billion
 from China, according to a Johns Hopkins analysis. And the amount of loans has tripled since 2012, largely through its Belt and Road Initiative (BRI).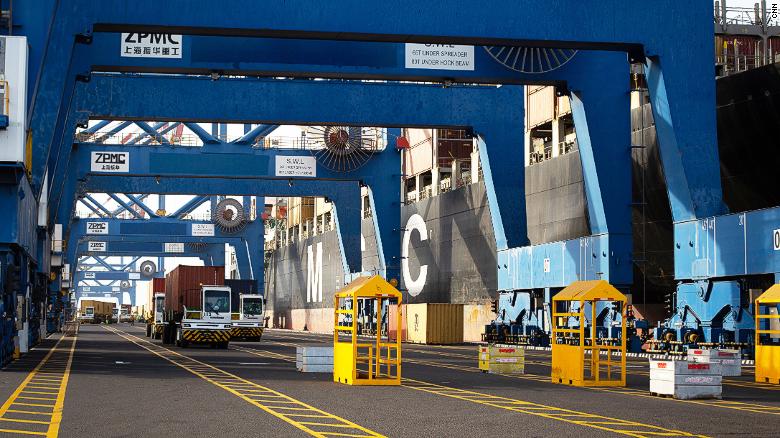 Proponents of China's BRI point out that the scheme often funds much-needed projects that other investors would balk at supporting, and that its focus on infrastructure, with a target investment of $1 trillion in construction is having an immediate impact on the continent.
China's Foreign Ministry has stated repeatedly that its investments in Africa come with no political strings attached and it has repeatedly denied China is engaging in what's been referred to as "debt-trap diplomacy."
Djiboutian officials insist the country will maintain control over its ports and that, so far, the government has a solid track record of paying off its loans.
"The funding is coming from China mainly, but we own the investments, we own the assets. It's a port, it's a railway, it's a free zone, we own two thirds of our investments," said the chairman of the Djibouti Ports and Free Zones Authority, Aboubaker Omar Hadi.
But Hadi is also well aware of the risks of — literally — banking on China. He just returned from a trip to Asia and Europe to try to drum up investment. "We don't want to depend only on one side, one continent, one country," he said.
Hadi bristles at the notion that his country and others on the continent are caught in a superpower tug of war. "The world needs to understand whether it's east or west or north or south, that we are going to decide our destiny … Everyone is welcome," he said.
The future
The official position of the Djibouti government may do little to reassure skeptics who believe China's investment program is a front for a more sinister motive of establishing a military footprint worldwide.
"The theory is that if China continues unmitigated expansion, both militarily and economically, and we don't compete to protect our influence, the consequence could be that we are edged out of those areas and we lose the ability to address what we perceive as counterterrorism national interests in Africa," the AFRICOM official said.
Countering China's economic might is hardly something that should fall on AFRICOM, said Wake Forest professor Benabdallah.
"China has been operating (in Africa) for the better part of two decades now and has been doing so in a very smart way, with really close networks and connections that have been in the work for several years," she said.
Benabdallah added that much of China's expansion in Africa is the result of strategic dedication led by Xi. The Chinese President has made six trips to the continent, and since January 1990, the Chinese foreign minister's first trip every year has been to a country in Africa.
Collins, founder of China SignPost, said soft power has long been a distinguishing feature of US foreign policy, and the current administration would be best served by taking a multilateral approach to relations in Africa.
"For the price of a single drone or fighter jet you could establish multiple university branches, and you would still have the funds to support those over the long haul," he said.
"It's not an instant payoff for someone who has the impatience of some of our current administration, but if we took a root cause strategy, 10 years from now there would be enormous dividends from that."
But until the US can figure out an "all of government" approach, some believe that much of the responsibility continues to land on AFRICOM's shoulders.
"We have gone from a unipolar world to realizing at best it's bipolar, at worst it's multipolar," the AFRICOM official said. "I would have a stark perspective. I think we are losing — in Africa we are losing."
By Arwa Damon and Brent Swails