The British delegation led by the United Kingdom Ambassador to Somalia/Somaliland, Ben Fender, including DFID Director for the two countries, Damon Bristow, and the UK Defence Attaché Colonel Matt Munro, had an opportunity to visit a number of programmes the United Kingdom either wholly supported or played a pivotal role.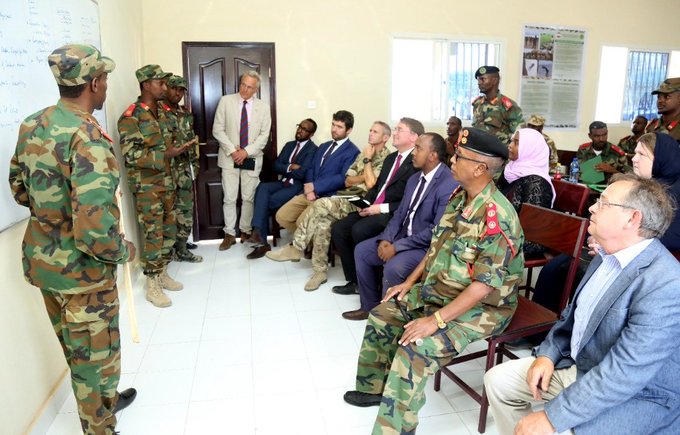 The delegation, accompanied by His Excellency the Minister for Defense, Abdiqani Atteye, the Chief of Staff, General Tani, and leading officers of Axiom International Ltd, spent inspiring moments with officers at the army's Junior Command and Staff College in Hargeisa on Tuesday. The delegation closely inspected areas of the programme implemented under the UK fund, listening to reports, chatting with officers at the facilities visited. The visit was said to have been inspiring for both sides.
An honour to host Ambassador @benfenderfco and @StuartBrownFCO in Hargeisa today, for meetings with the Minister of Defence & Chief of Staff & a visit to @AxiomIntLtd supported Junior Command & Staff College. #capacitybuilding #internationaldevelopment #Somaliland pic.twitter.com/oNscoblLOQ

— Axiom International Ltd (@AxiomIntLtd) September 10, 2019
The United Kingdom is funding the Energy Security and Resource Efficiency in Somaliland. The Program aims to help provide Somaliland consumers affordable, renewable energy in Somaliland.
The #UK renewed its agreement this week to address the costs of electricity in #Somaliland. Through the UK-funded Energy Security and Resource Efficiency in Somaliland (ESRES) program, the UK is providing clean, affordable renewable energy in Somaliland #100WaysAidWorks pic.twitter.com/YlTOYWKXNP

— UK in Somalia🇬🇧🇸🇴 (@UKinSomalia) September 11, 2019
The delegation made a visit to major roads works UKaid invested in. Damon Bristow positively reacted to the visit.
Early this week, I witnessed how UKaid investment at the Somaliland Roads Development Authority is supporting economic development and job creation in #Somaliland #AidWorks pic.twitter.com/jF9gnUbDPU

— Damon Bristow (@Damon_Bristow) September 11, 2019
One of the highlights of the UK delegation's visit was the on-job tour members made to areas at which technicians were racing against time to boost Hargeisa water supply by 60% was underway. The United Kingdom was contributing heftily to the effort.
"Great to have visited Hargeisa Water Agency which is supplying water to the people of #Hargeisa. Funded by #UKaid, the #Somaliland Development Fund water project will increase the amount of water available in Hargeisa by 60%"- @Damon_Bristow
Head of @DFID_UK Somalia#AidWorks pic.twitter.com/mLiPvCbSCa

— UK in Somalia🇬🇧🇸🇴 (@UKinSomalia) September 11, 2019
Earlier, on Monday, His Excellency the President of the Republic of Somaliland, Muse Bihi Abdi, received the delegation at his office where the two sides signed 31-mln-Pound UKaid support to development programmes.
The #UK government this week signed agreements worth £31m to support development in #Somalilandhttps://t.co/NRNME03Qu4

— UK in Somalia🇬🇧🇸🇴 (@UKinSomalia) September 11, 2019