A militant leader in Ethiopia says his group has struck a military alliance with the Tigray forces now pressing toward the country's capital, as the conflict that erupted in the Tigray region last year spreads into other parts of Africa's second-most populous country.
"The only solution now is overthrowing this government militarily, speaking the language they want to be spoken to," Oromo Liberation Army leader Kumsa Diriba, also known as Jaal Marroo, told The Associated Press in an interview on Wednesday.
The alliance is a further sign of the broadening of the Tigray conflict that began in November after a political fallout between Prime Minister Abiy Ahmed and the Tigray leaders who had dominated Ethiopia's government for nearly three decades. Thousands have been killed in the nine-month war that has been marked by widespread allegations by ethnic Tigrayans of gang-rapes, man-made famine and mass expulsions by Ethiopian and allied forces.
The OLA leader said the agreement was reached a few weeks ago after the Tigray forces proposed it. "We have agreed on a level of understanding to cooperate against the same enemy, especially in military cooperation," Diriba said. "It is underway." They share battlefield information and fight in parallel, he said, and while they're not fighting side by side, "there is a possibility it might happen."
Talks are underway on a political alliance as well, he said, and asserted that other groups in Ethiopia are involved in similar discussions: "There's going to be a grand coalition against (Abiy's) regime."
The alliance brings together the Tigray People's Liberation Front, who had been front and center in Ethiopia's repressive government but were sidelined when Abiy took office in 2018, and the OLA, which last year broke away from the opposition party Oromo Liberation Front and seeks self-determination for the Oromo people. The Oromo are Ethiopia's largest ethnic group.
Ethiopia's government earlier this year declared both the TPLF and OLA terrorist organizations.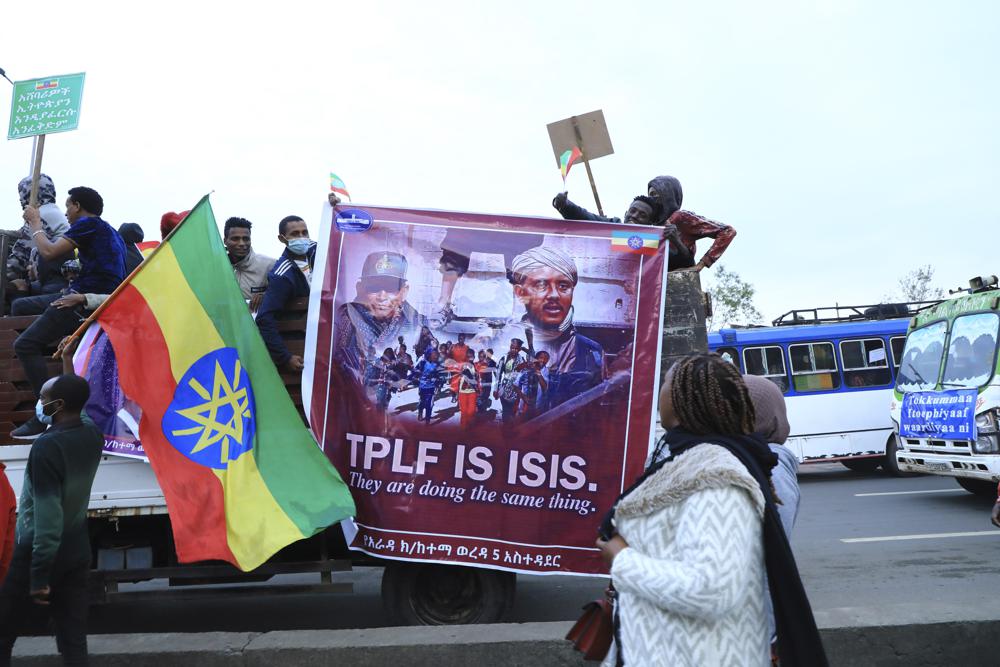 Tigray forces spokesman Getachew Reda told the AP last week that "yes, we're working with some people" in pursuit of a political arrangement but didn't give details. "We want to work with anyone not implicated in the genocidal campaign Abiy Ahmed has waged," he said.
There was no comment from the spokeswoman for Abiy's office.
The OLA leader spoke a day after the prime minister called on all capable Ethiopians to join the military and stop the Tigray forces "once and for all" after they retook much of the Tigray region in recent weeks and crossed into the neighboring Amhara and Afar regions. The Tigray forces spokesman has told the AP they are fighting to secure their long-blockaded region but if Abiy's government topples, "that's icing on the cake."
With access to parts of Ethiopia increasingly restricted and journalists often harassed, it is difficult to tell how citizens will respond to the prime minister's call, or whether they will join the fight against him. The government has supported large military recruiting rallies in recent weeks.
The Tigray leaders embittered many Ethiopians during their nearly three decades in power by putting in place a system of ethnic federalism that led to ethnic tensions that continue to simmer in the country of 110 million people.
Diriba acknowledged that agreeing to the Tigray forces' proposal for an alliance took some thought. "There were so many atrocities committed" against the Oromo people during the TPLF's time in power, he said, and the problems it created have never been resolved.
But the OLA decided it was possible to work together, he said, though some doubts remain. "I hope the TPLF has learned a lesson," he said. "I don't think the TPLF will commit the same mistakes unless they're out of their mind." If they do, there will be chaos in Ethiopia and it could collapse as a state, he said.
It was not clear how many fighters the OLA would bring to the alliance. "This, madam, is a military secret," its leader said.
He said he hoped the TPLF's talks with other groups would become public in the near future. He also warned the international community, which led by the United Nations and the United States has urged a halt to the Tigray conflict and negotiations, that the crisis has to be handled carefully "if Ethiopia is to continue together."
By CARA ANNA
Associated Press
Amnesty reports widespread rapes 'with impunity' in Tigray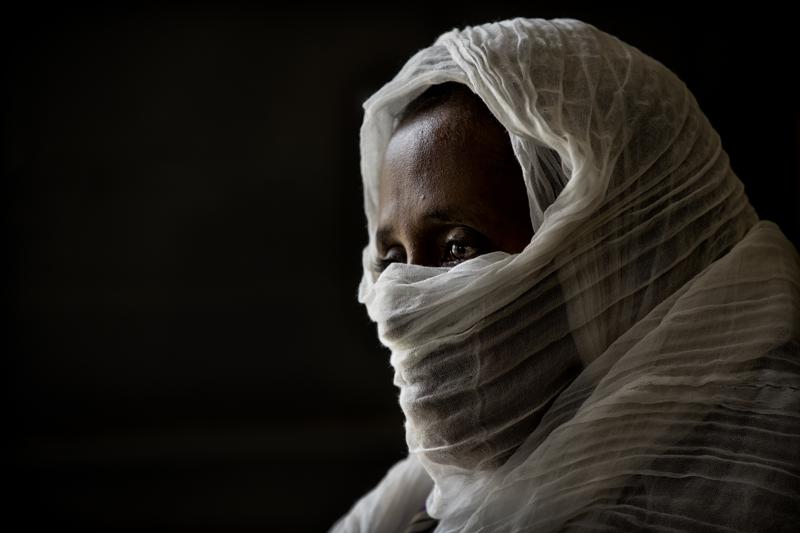 Dozens of women have described shocking sexual assaults by Ethiopian soldiers and allied forces in the country's Tigray conflict, says an Amnesty International report published Wednesday, and its researcher calls it striking how the perpetrators appeared to act without fear of punishment from their commanders.
"All of these forces from the very beginning, everywhere, and for a long period of time felt it was perfectly OK with them to perpetrate these crimes because they clearly felt they could do so with impunity, nothing holding them back," Donatella Rovera told The Associated Press.
She would not speculate on whether any leader gave the signal to rape, which the report says was intended to humiliate both the women and their Tigrayan ethnic group. In her years of work investigating atrocities around the world, these are some of the worst, Rovera said.
More than 1,200 cases of sexual violence were documented by health centers in Tigray between February and April alone, Amnesty said. No one knows the real toll during the nine-month conflict, as most of the health facilities across the region of 6 million people were looted or destroyed.
These numbers are likely a "small fraction" of the reality, Amnesty said. It interviewed 63 women, along with health workers.
A dozen women described being held for days or weeks while being raped multiple times, usually by several men. And 12 other women said they were raped in front of family members. Five women said they were pregnant at the time they were assaulted. Two said they had nails, gravel and shrapnel shoved into their vaginas.
"I don't know if they realized I was a person," one woman told Amnesty, describing how she was attacked in her home by three men. She was four months pregnant at the time.
The AP separately has spoken with women who described being gang-raped by combatants allied with the Ethiopian military, notably soldiers from neighboring Eritrea but also fighters with the neighboring Amhara region.
Amnesty has not received allegations against Tigray forces, who regained control of much of the Tigray region in late June and have since crossed into the Amhara and Afar regions in what they call an attempt to break the blockade on their land and pressure Prime Minister Abiy Ahmed to step down.
While Ethiopian and allied forces retreated from much of Tigray in June, some remain in western Tigray, and Ethiopia's government on Tuesday essentially abandoned its unilateral cease-fire as Abiy called all able citizens to fight.
The Amnesty report calls for accountability for the sexual violence during the conflict, saying rape and sexual slavery constitute war crimes. Many women in Tigray now live with the physical and mental effects of the assaults including HIV infections and continued bleeding, it said.
In a statement responding to the Amnesty report, Ethiopia's government said it had previously acknowledged that "some members of the armed forces have engaged in conduct that is contrary to the clear rules of engagement and direction they have been given."
Ethiopia's statement also accused the human rights group of "sensationalized attacks and smear campaigns" against the government, while Eritrea's information minister Yemane Gebremeskel in a tweet accused Amnesty of having a "hostile agenda" against his country, which borders the Tigray region to the north.
Earlier this year, Ethiopia's government said three soldiers had been convicted and 25 others indicted for rape and other acts of sexual violence. But Amnesty said no information has been made available about those trials or other measures to bring perpetrators to justice.
A spokesman for the attorney general's office did not respond to a request for an update Wednesday on any investigations.
Ethiopia's government has not allowed human rights researchers into the Tigray region, though a joint investigation into alleged atrocities is underway by the United Nations human rights office and the government-created Ethiopian Human Rights Commission.
By CARA ANNA
Associated Press