Two police officers have been shot in Ferguson, Missouri, as a small demonstration wound down in the city gripped by unrest since the fatal shooting of an unarmed black 18-year-old last year.
One officer from St Louis County and another from Webster Groves were struck soon after midnight on Wednesday as they stood outside the Ferguson police headquarters, St Louis County police chief Jon Belmar said at a press conference early on Thursday morning.
"These police officers were standing there and they were shot, just because they were police officers," said Belmar, who added that the officers sustained serious gunshot wounds.
The Webster Groves officer, a 32-year-old who has worked in the department for five years, was shot in the face, according to Belmar. The St Louis County officer, who is 41 and a 17-year law-enforcement veteran, was shot in the shoulder, he said.
Sergeant Brian Schellman, a spokesman for St Louis County police, told the Guardian that both officers were being treated in hospital. "No update yet on condition," said Schellman. The St Louis Post-Dispatch reported police sources saying both were expected to survive.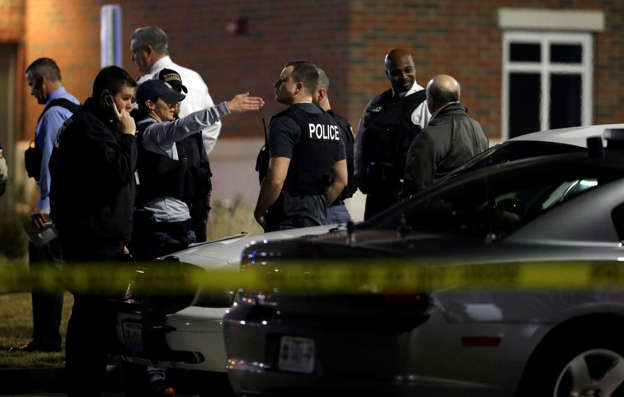 © Jeff Roberson/AP Photo Police investigate the scene where two police officers were shot outside the Ferguson Police Department, March 12, 2015, in Ferguson, Mo.Belmar said the shots appeared to have been aimed at the police as they were fired "parallel with the ground" and did not appear to have ricocheted. "I would have to make an assumption that these shots were directed exactly at my police officers," he said.
Several protesters at the scene said the shots appeared to have been fired from a hill behind a dwindling group of demonstrators who were celebrating the resignation of Ferguson police chief Thomas Jackson and were gathered across from the police department on the other side of South Florissant Road.
Tony Rice, a Ferguson resident and protester, said: "The shots came from up Tiffin Avenue" – an upwards-sloping street directly opposite the police department. DeRay Mckesson, a prominent leader of the Ferguson protest movement, agreed that the shots were fired from "the alley or street" behind where protesters stood.
"I'm 100% sure on that," Rice told the Guardian. "Clearly no one shot a gun close to me."
Yet, when asked to confirm that the shooter or shooters had not been among the protest, Belmar said: "I don't know who did the shooting, to be honest with you right now. But somehow they were embedded in that group of folks." The police chief said he had no details on descriptions of suspects or on the weapon or weapons used.
Rice recalled in a telephone interview that he "heard gunshots go off and felt a bullet whizz by my head," prompting him to take cover from the direction of the shots by hiding behind a car, while facing the police line.
© Provided by Guardian News A protester confronts a police officer outside the Ferguson police department.
"I saw the officer who was shot in the face hit the ground," said Rice. "He was hollering and moaning. Not saying words but just screaming. Other officers were jumping around him tending to him. Some were scrambling to get out of the way."
Rice said the officer struck in the face had been standing on the pavement outside police headquarters and the officer hit in a shoulder was on a grassy patch behind him. He said that from a high of about 200 protesters earlier in the evening, numbers had fallen to between 30 and 50 as people went home for the night.
Susan Weich, a reporter for the St Louis Post-Dispatch, said in a video posted to Twitter: "It was just after midnight, we were just getting to leave and things were winding down. All of a sudden we heard some shots ring out – probably three or four shots. Two of the police officers who were standing in the line in front of the police department went down.
"It was mass chaos after that. Protesters were falling on the ground, protesters were running. We ran behind a brick wall. Then all these police officers started pulling out weapons."
The shootings came just hours after Jackson became the sixth senior official in Ferguson to lose his job following the publication of a damning report by the Department of Justice on the city's criminal justice system.
The shots were the first to strike law enforcement officers in the seven months since protests erupted following the shooting of Michael Brown by Darren Wilson, a white officer.
"We've had occasion to be involved in many of the events in Ferguson since Michael Brown was killed and we've been very fortunate as we've moved forward not to have similar instances like this happen to us," said Belmar.
"As I have said all along, we cannot sustain this forever without problems – that's not an indictment on everybody that's out there expressing their first amendment rights. But what we have seen in law enforcement is that this is a very, very, very dangerous environment for the officers to work in regarding the amount of gunfire that we've experienced out there."
Earlier on Wednesday, Jackson had announced "with profound sadness" that he would quit as police chief on 19 March. It was announced on Tuesday evening that city manager John Shaw would also be leaving his position. Their departures followed the resignations of municipal court judge Ronald Brockmeyer, his clerk, and two police commanders.
The federal inquiry into Ferguson's law enforcement was prompted by unrest following the Wilson's fatal shooting of Brown on 9 August last year. Brown's death led to successive nights of intense protests and clashes with police.
Officials announced simultaneously last week that Wilson would not face federal civil rights charges. A St Louis grand jury declined to prosecute him on state charges last year. A night of rioting, looting and arson followed the announcement of the decision.
In their report last week, justice department officials concluded that police and court authorities targeted black people disproportionately and frequently violated their constitutional rights. They were accused of operating the criminal justice system as a generator of city revenues.
(The Guardian)